Home Page
Site Search
Sights & Activities
Localities • Places
Good Travel Faqs
Sicily's Top 12
Hotels • Planning
Maps of Sicily
Weather • Climate
Nature • History • People
Food • Wine • Dining
Arts • Literature • Culture
Monthly Magazine
Sicilian Identity
Sicily Links
Contact • Follow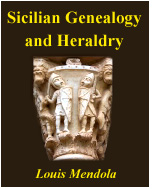 Sicilian Gene­alo­gy & Heraldry. The only book ever pub­lished about Sicilian family history re­search is now available from Amazon and other vendors. Histori­ography, folk customs, religious practices, research strategies, records to consult. A definitive guide to Sicilian genealogy and a Sicilian identity. (300 pages on acid-free paper, ebook available soon) Read more.
Female Succession to Sicilian Titles of Nobility
The Sicilian Succession in the Kingdoms of Naples and Sicily
Related pages: Armigerous (Noble) Families Listed • Heraldry & Nobility • Kings & Knights • Feudalism in Sicily • The Peerage
The Kingdom of the Two Sicilies (Naples and Sicily) flourished most recently from 1734 until 1861, but female feudal succession in default of male heirs originated with the Constitutions of Melfi of Frederick II in 1231: "In aliquibus regni nostri partibus..." Naturally, Sicilian Succession also applied in Malta - under the Knights of Saint John a fief of the King of Sicily de facto until 1798.
In such cases, the titled heiress's husband was, by courtesy, permitted use of the title she bore in her own right. In the Kingdom of the Two Sicilies, this practice was formally sanctioned by King Francesco I with his rescript of 4 March 1828. The term for a husband's use of such a title is "maritali nomine."
This policy was unchanged at the unification of Italy in 1861 and revised by statute only in 1926 with the royal decree of 16 August of that year (see below), which statute made clear that henceforth titles could devolve to daughters where such hereditaments were sanctioned by patent or decree. This often occurred after 1926, as per the case mentioned below.
The last Kings of Italy made a number of decrees concerning such cases, those of the last Sovereign published as Provvedimenti Nobiliari e Araldici di Umberto di Savoia. By way of example: the decree of 22 May 1946 by Umberto II (during his brief reign) in favour of the succession of Maria Elena Nunziante to a princedom, with "facoltà d'uso al marito Benjamin Seymour Guinness," a foreigner who she had wed in 1939. Under the same date, succession to a dukedom was recognised in favour of her younger sister, Ortensia, who thereby became Duchess of Castel Germano in her own right.
Francesco II, the last King of the Two Sicilies, was exiled in 1861 and died abroad in 1894; Umberto II, the last King of Italy, was exiled in June 1946 and died abroad in 1983. Presently, the headship to both dynasties, Bourbon-Sicilies and Savoy, is contested, with much acrimony, between cousins, respectively Carlo and Carlos Bourbon and Vittorio Emanuele and Amedeo Savoy. In international law, no court is empowered to adjudicate such claims to fons honorum. The last three Grand Masters of the Sovereign Military Order of Malta have accepted the Order of Saint Januarius from Carlo de Bourbon and his predecessors, yet the SMOM does not take an official position in such dynastic disputes. (The Italian Republic abrogated recognition of the Savoy orders with Law number 178 on 3 March 1951 but now permits wearing of Bourbon-Sicilies orders bestowed by either pretender/claimant, Carlo or Carlos.) At all events, juridically speaking, there is no clear dynastic head of the Two Sicilies or its immediate successor state (the Kingdom of Italy) to recognise a specific heiress's right to a title of nobility.
The Italian Constitution (1948) abrogated recognition of nobiliary titles yet permitting use of some predicati (territorial designations) recognised before 1922 (the Fascist era) in its Disposizioni Transitorie, Article XIV. The Constitutional Court ruled definitively (in Sentence number 101 of 26 June 1967) that Italian titles of nobility are "outside the law," explicitly declaring nobiliary legislation from 1887 to 1946 to be "illegal," mentioning inter alia the decree of 16 August 1926 noted above.
The Vatican does not adjudicate in Italian nobiliary matters, and in the 1984 revision of the Lateran Concordat the article requiring Italy to recognise Pontifical titles (of Italian citizens) was omitted.
In conclusion, whilst no juridical authority or venue presently exists to rule formally in the matter of female succession and (thereby) the courtesy use of a titled noblewoman's rank by her husband, its precedent in Siculo-Neapolitan and (after 1861) Italian law is well-established into recent times, and female succession to titles of nobility exists elsewhere in Europe as well, particularly in Scotland and Spain.
— Luigi Mendola