Termini Imerese
Himera and Caccamo
Ancient splendour and medieval simplicity
Related pages: Ancient & Medieval History • Timeline • The Mountains • Greeks • Carthaginians • Romans • Arabs • Normans

We'll be brutally honest: Termini itself, except for its few standing fragments of Roman architecture and what little remains of a hilltop fortress, is hardly worth more than a brief visit. However, its small museum houses a few interesting Arab-period finds and this small city is close to the Himera archeological site and a reference point en route to Caccamo Castle farther inland. Termini Imerese is less than forty kilometers east of Palermo or about twenty-five minutes by train or car, midway between Palermo and Cefalù.
The town's Latin name comes to us from the phrase "Thermae Imerenses" for "Hot Springs of Himera." Indeed, the remains of arched Roman aqueducts are visible at Termini. The toponymic "Himera"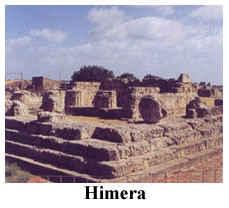 was the Greek name for the large settlement near present-day Termini. Truth be told, the story of Himera is the only historically noteworthy episode that can be linked to the ancient history of Termini Imerese.
Himera (or Imera) was founded in 678 BC (BCE) by Greek colonists from Zancle, modern Messina. Zancle itself had been settled in the previous century by Greek colonists. It is probable that a prehistoric settlement already existed there, populated by Sicanians, and the same can be said of Cefalù. We know little of the history of the Himera area prior to the arrival of the Greeks, though the Phoenicians had established small trading settlements at Solunto and Palermo.
In fact, construction of the Greek town of Himera represented the farthest westward advance of Greek civilisation along the Tyrrhenian coast of Sicily, thus constituting a very real threat to the Carthaginians, who had colonized the western area of Sicily and founded Palermo and Solunto, the latter city being only about thirty kilometers distant from Himera. In 480 BC, the Carthaginians decided to invade the region. Hamilcar, a Carthaginian general who was an ancestor of the famous Hannibal who later fought the Romans, assembled an army said to number thirty thousand men to march upon Himera. The Greeks of Imera sought and received help from their fellow Greeks of Agrigento and Syracuse. The three combined Greek armies literally massacred the Carthaginians, so the Punic threat to Sicily's Greeks all but vanished, at least for the remainder of that century.
But the Carthaginians were restless and for a time their power in the central Mediterranean stood ready to eclipse that of Rome. In 409 BC, Hannibal, grandson of Hamilcar, led a large Carthaginian army against Himera. This time, the Greeks were defeated and Himera was destroyed. It is believed that the survivors of the battle fled to either Termini or Caccamo (famous for its Norman castle), and founded the two towns or developed existing settlements. A few may have made their way to Cefalù. (Himera's archeological site is described below.)
Termini's Civic Museum has an extensive and interesting exhibition for a relatively small city like Termini. Its collection includes ancient archeological objects from the nearby area, and a good numismatic collection. Several of the lions' heads from Himera's Temple of Victory are located here; others are housed in the archeological museum in Palermo. There is also a large stone slab with Arabic inscriptions written upon it, believed to have been suspended over the city gates of Termini during the period of Arab domination.
For Visitors: Guests of the Grand Hotel delle Terme" can enjoy the springs for which Termini is named, located at this spa-resort.
Himera
The ruins of ancient Himera (Imera), famous for the remains of the Temple of Victory, are located in a coastal plain at the mouth of the Imera River about five kilometers east of Termini off of State Road 113 (SS113), in the district called Buonfornello. The history of ancient Termini Imerese is really the history of Himera. Though the ruins of this coastal city are not as "complete" as those of Solunto, the ancient Roman city near Bagheria, Himera is worth a visit if you're seriously interested in ancient Greek cities and temples. Himera's Doric temple is interesting, though it is less spectacular than the temples of Segesta and Agrigento because it is little more than a foundation, with no standing columns remaining. There are also the remains of two other temples in the same archeological park.
Caccamo
Caccamo is about fourteen kilometers south of Termini Imerese and Himera, up a winding mountain road. The town has a certain charm, and vestiges of the Middle Ages. The mountain upon which Caccamo Castle sits has been fortified, in one way or another, since ancient times.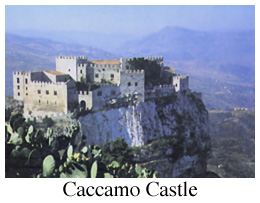 The town's greatest attraction is its large medieval fortress, boasting a spectacular location overlooking the scenic San Leonardo River Valley far below. It is usually open to the public mornings a few days a week.
Epitomizing medieval Sicily, this was a feudal castle built by a Norman enfeoffed knight, Matthew Bonellus, during the twelfth century, probably upon an older Arab fortress, and modified considerably in the successive centuries under the Chiaramontes and others. Bonellus himself was one of the major plotters of the so-called "Baron's Revolt" of 1160 --though (not without a certain irony) the street from which one enters the arched principal entrance of Palermo's cathedral is named for him.
With its splendid towers and battlements, the gray stone structure retains most of its medieval appearance. It has recently undergone an extensive restoration which was at least reasonably faithful to the original style. The castle is set upon a steep cliff, and in that respect and others is similar to Mussomelli Castle and others around Sicily, though obviously much larger.
Caccamo Castle is open weekdays and Saturdays from 9 to 1 and then from 3 until 8.
While you're in Caccamo, visit the Church of Saint George near the castle. Though largely reconstructed during the sixteenth century, it has some interesting relics of its medieval past (it was built in 1090), such as an old baptismal font. It also has an interesting collection of ecclesiastical vestments.
The Annunciation (Annunziata) Church is also medieval, though extensively modified. If you're driving, a brief visit to Caccamo can easily be scheduled as a stop en route from Palermo to Cefalù. If your taste runs to the medieval, you won't be disappointed. An arched bridge dating from the Middle Ages spans the San Leonardo River, but since 1994 it has been submerged by a man-made lake formed by a dam.
Last revision April 2008.