Francesca Lombardo
Meet one of Sicily's leading food and wine experts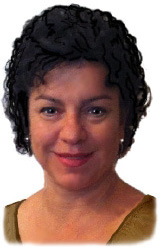 About twice each season – Summer and Winter – our editors get a request from television producers for a consultant, a culinary guide who really knows Sicilian food and wine. Not the everyday "aficionado," but a veritable expert. Whatever they're seeking – bizarre foods or the best "secret" restaurants – they want the best person for the job. In other words, the real deal.
Francesca Lombardo is who we refer them to.
Whether it's a wine tour, a search for Sicily's best pastries or a quest for Sicilian street food – about which she recently authored a useful guidebook – Francesca is one of Sicily's leading connoisseurs. And unlike most of the charming folks who promote themselves as "experts," she is a neutral, unbiased critic with no "vested interest" in the field. While she organizes food-and-wine tours, Francesca is not a restaurant owner or travel agent, so her recommendations are not colored by commercial considerations. Her English is flawless (she also speaks German), and she knows her field. Her university degree in humanities and her experience teaching in schools have given her a good sense of how to present the unique, multicultural history of Sicilian cuisine.
This website is full of culinary curiosities. We count on Francesca to track down the tastiest ones we haven't yet discovered ourselves. So will you...
We have been fortunate to be able to publish a few of Francesca's articles on this site:
Sfincione. The original, thick Sicilian pizza.
Arancini. Rice balls. A Sicilian specialty.
Crocché. Potato fritters with cheese, egg and mint.
Panella. Fried ceci (chick pea) cakes.
Cardoons. Carduna, the artichoke's delicious country cousin.
Spleen Burgers. Really.