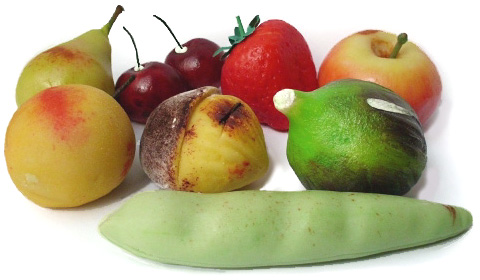 The almond marzipan pastry known as Martorana Fruit makes its annual debut late in the year when Autumn is upon us - usually in late October. This is traditional because of two annual occurrences, namely the harvesting of almonds (in early September) and the first "cool" days and nights (always a relative term in sunny Sicily) in October. The marzipan is usually on display in pastry shops by All Saints Day, celebrated on the first of November as an Italian national holiday.
Martorana Fruit has a bit of an identity crisis. In Palermo it's named for the Martorana monastery, for reasons we'll explain, while elsewhere it's called pasta reale or even frutta reale, the Italian word reale meaning both real and royal.
Almond marzipan probably came to Sicily from Spain, where the Arabs may have introduced it during the Middle Ages. Whether they also brought it to Sicily, which was home to several emirates before 1071, is a matter of debate. However, there is no doubt that it was the Arabs who introduced sugar cane in both Sicily and Spain, and without this key ingredient marzipan could not exist. The Arab almond marzipan is lozina. Similar pastries are known in Spain, Portugal, Greece and Cyprus. In antiquity, almond marzipan was probably first made in Persia or what is now Turkey.
The Martorana church began its life as a place of worship for Palermo's Greek Orthodox community after the Great Schism (and is pictured on our page about that event), but by the eighteenth century it was part of a monastic complex run by an order of nuns. Across southern Europe the nuns of the larger religious orders often made and sold various kinds of pastries. Marzipan, which also includes the sticky white "almond milk," should not be confused with the soft cookies made with almond paste. Marzipan is not a cookie.
Surprisingly little is known of marzipan's history in Sicily. The story about the Martorana's nuns shaping and decorating the marzipan to resemble fruit, then hanging it from dormant fruit trees to impress a bishop visiting one Easter, may well be an urban legend. Even so, it makes for an interesting one. Easter culminates the marzipan season. You won't find much Martorana Fruit in Sicily after April.
The pastry called persipan, which you won't find in Sicily, is made in cooler climates where almonds don't thrive using peach or apricot kernels. In fact, these common fruits are closely related to the more aristocratic almond, and their edible if bitter kernels (the center of the pit) substitute for almonds in the manufacture of products such as "almond" soap.
There are two things to consider in the quality of Martorana Fruit. Firstly, it should not be too sweet. That may seem counterintuitive, but this is one pastry where sugar is not the main ingredient. Nowadays most Sicilian marzipan available commercially contains too much sugar. Worse yet, it is usually refined white sugar rather than the tastier, brownish, unrefined variety.
Next is the question of what might be called aesthetics or "design." In other words, the marzipan as a work of art. The best pasta reale is formed into shape using custom-made moulds which pastry-makers guard jealously and then "painted" to resemble actual fruit as realistically as possible. Yes, pasta reale may mean "realistic paste." Even those who get the recipe and method right may fail when it comes to the decorating because, after all, not all pastry chefs are competent artists. (For our photograph we visited seven pastry shops in Palermo before finding one, called Oscar, which sells Martorana Fruit that looks realistic and also tastes like the "real deal.")
In the end, Martorana Fruit isn't just tasty pastry. It's part of Sicilian tradition.
About the Author: Roberta Gangi has written numerous articles and one book dealing with Italian cultural and culinary history, and a number of food and wine articles for Best of Sicily Magazine.