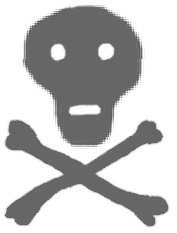 In recent years, as Halloween has become popular in Sicily and throughout Italy, a vocal group of Catholic clergy annually condemns it as an "American pagan holiday" which erodes the fabric of Italian Christian society. An overstatement, perhaps, as Italians' traditional morality seems to be destroying itself with little help from outside influences. In fact, All Hallow's Eve has the same medieval roots as two Christian holy days --All Saints' Day and All Souls' Day-- which are still observed in Sicily.
Just as certain aspects of the observance of Halloween trace their origins to pagan customs (particularly the ancient Celtic Samhain summer's-end festival observed in pre-Roman times), some traditions related to the Mediterranean (and Roman Catholic) observance of All Souls and All Saints may indeed be based on much older Greek customs. But the Christian feasts themselves are hardly pagan, and All Hallow's Eve (31 October) has been linked to All Saints' Day (1 November) at least since the ninth century. In Saxon England, All Saints' Day was called "All Hallows' Day" (hallow meaning holy).
All Souls' Day follows on 2 November. This commemorates all the dead rather than recognised saints exclusively and in Italy is called the Feast of the Dead.
The general European practice of leaving food out for spirits on Hallows' Eve seems to have spawned the tradition of distributing candy or other food. It is interesting that this custom has been all but forgotten in predominantly Protestant countries but it is still remembered (if not practiced) in more Catholic southern Europe. Whether the medieval practice is directly linked to the ancient Greek and Roman custom of leaving food in temples is not known with certainty. In Italian tradition children would awake on the morning of All Saints or All Souls to find small gifts from their deceased ancestors. This was, in effect, the Sicilian Halloween. The other major gift-giving occasion was not Christmas but the Epiphany (6 January). It is interesting to note that, in keeping with Eastern Orthodox tradition, Sicilians originally observed this holy day almost as importantly as Christmas.
In Italy, Halloween involves costume parties for young adults rather than gift giving or house-to-house "trick-or-treating" for youngsters. Though it is growing in popularity, it is not likely to ever displace All Saints (a national holiday) and All Souls (effectively a localised Sicilian holiday). The concern of traditionalists is that it has already displaced the more traditionally Sicilian children's feast.
In fact, Halloween costume parties have become popular in Italy only over the last six or seven years. The main children's costume event is Carnevale (Italian observance of Fat Tuesday or Mardi Gras) in the spring.
It is not the holiday itself that is changing, but the way it is observed. A number of Sicilian feasts remain popular, and many are associated with particular foods: local saints' days (Saint Rosalie in Palermo, Saint Agatha in Catania), Saint Joseph's Day (stuffed cream confections), Saint Martin's Day (hard biscuits and fortified wine), Saint Lucy's Day (hard grain pudding).
Sicilian culture hardly seems to be in danger of extinction, and surprising children with All Saints' gifts would be a fine complement to the more "Anglo-American" celebration of Halloween. For better or worse, this may not happen. The Sicilian custom seems to have already been cast aside. Yet in many Italian homes Christmas trees often exist alongside the more traditionally Italian Nativity scenes. It is nice to think that, at least in some cases, Italians have made room in their lives for the cuisines, arts and customs of other peoples, without ever forgetting their own.
About the Author: Roberto Paglia has written several articles for this publication relating to social topics.