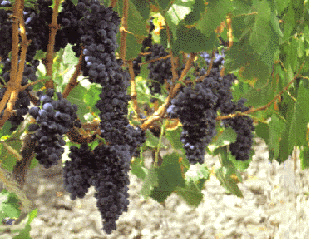 Nero d'Avola is Sicily's most popular red grape, used in the region's bestselling varietal wine. Until the 1980s, commercial use of Nero d'Avola was dedicated almost exclusively to fortifying weaker reds in France and northern Italy. In the past Nero d'Avola, like other Sicilian reds, was often syrupy, with an alcohol content reaching eighteen percent --too strong as table wines. The name, which literally means "Avola Black," is a good description.
New viticulture techniques and night harvesting --placing the grapes in in cooled vats to present premature fermentation-- have been used by a few vintners to retain flavor without producing an overpowering wine. The result is often compared to Syrah, another popular red.
Boasting a singular climate, Sicily is blessed with consistent growing seasons from year to year, typified by lots of warm sunshine and very little rain. Vintage quality varies, of course, but not as much as it does in Burgundy or Piedmont.
Dozens of wineries, including many that are little more than part-time vintners bottling the results of private harvests, sell Nero d'Avola, much of it unexceptional. We tasted a few of the better ones. Here are some observations about the "pure" Nero d'Avolas we sampled at a recent blind tasting. Prices are Italian retail.
Duca Enrico by Duca di Salaparuta (2003). Slightly fruity but full-bodied. Exceptional entry from a winery noted for mid-priced wines. €35.00.
Santa Cecilia by Planeta (2002). One of the better ones, striking a good balance between body and flavor. Probably ages well. An impressive wine. €25.00.
Zonin Nero d'Avola (2002). Good entry from one of the wineries responsible for developing the Sicilian varietal industry. However, it lacks the body one expects from a robust red. For this reason, some people may prefer it while others will be disappointed. €12.00.
Torre dei Venti by Fazio (2002). Fresh notes in a wine produced from grapes raised in the Erice-Segesta area. €20.00.
Rallo Nero d'Avola (2002). The black plastic cork is not a good idea. Berry overtures and a slightly fizzy texture. One might expect something more from this company known for its fine Marsala. €7.00.
Francesco Nicosia Nero d'Avola 2003. Surprisingly good for an inexpensive wine. Grapes are from the Etna region, Nicosia having been in business for over a century. €5.00.
Maria Costanza by Milazzo (2003). An excellent mid-priced wine that more than "holds its own" with more expensive labels. Impressive body and flavor. €13.00.
Nero d'Avola is one of those reds that you either love or hate. It's not pretentious. It can only be itself, and it can overpower, as well as complement, mild cuisine. It seems made to accompany lamb, venison and stronger beef dishes --things like a thick Texan steak with wild mushrooms.
Nowadays, with culinary rules cast aside, there's really no entrenched wisdom, but our conservative opinion is that Nero d'Avola is destined to be appreciated by wine lovers in search of a "real" red with about a thirteen percent alcohol content.
This is one of those wines that would lose its luster if it were made from grapes grown anywhere but Sicily, with its unique soil. One doubts whether any other region could compare. It's the epitome of Sicilian flavor.
For more information on Sicilian wines:
Sicilian Food and Wine
Sicilian Novello
Sicily's Wine Renaissance
Sicilian Wine Country
About the Author: Roberta Gangi has written numerous articles and one book dealing with Italian cultural and culinary history, and several food and wine articles for Best of Sicily Magazine.