Magazine Index
Best of Sicily
Arts & Culture
Fashion
Food & Wine
History & Society
About Us
Travel Faqs
Contact
Map of Sicily


Purchase fine wines from Sicily directly from the winery for sale in your wine shop or restaurant. Sicilian wines for wholesale export anywhere in the world.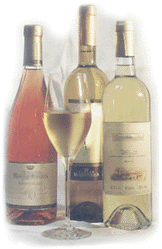 It was a long time coming. Very long. Almost four thousand years, in fact. But Sicilian wines have finally asserted themselves on the international stage. The last few years have seen some remarkable vintages, some from wineries barely known outside Sicily just five years ago. More modern techniques in viticulture and winemaking, coupled with the unique blending of local Sicilian grape varieties and international ones, has spawned a new industry. Among whites, it's no longer unusual to encounter an insolia, damaschino or grillo blended with chardonnay. Sicilian reds used to be infamously strong and overbearing, but the distinctive nero d'avola is often preferred in its purest varietal form, with no help from cabernet sauvignon. Until recently, Sicily was best known for fortified dessert wines such as Marsala, passito and moscato. In some years, the island provided as much as thirty percent of Italy's total production, with the Sicilian product considered little more than a fortifying agent in other wines or an economical wine sold in bulk. That's changing, and chefs in New York, London and Tokyo are taking note. Sommeliers who once associated Sicily exclusively with the sweet Marsala used in cooking now sell the best Sicilian table wines for as much as sixty dollars a bottle. Some of the "new" Sicilian wines, such as nero d'avola, which has been compared to syrah, age particularly well.
Planeta, Fazio, Sant'Anastasia and Donnafugata stand out among the newly popular wineries, with Spadafora and a few others now emerging as serious contenders. Under the direction of the late Count Giuseppe Tasca, Tasca d'Almerita (and its consistently superior Regaleali) has been making fine wines for decades and is still family owned. The older Salaparuta, best known for its reliably drinkable if undistinguished Corvo, is now owned by the Sicilian regional government. That's a story in itself, but the winery still produces a few remarkable wines thanks to an enlightened and gifted oenologist "imported" from northern Italy's Piedmont region.
Sicily's rich soil and dry climate --almost too dry the last few summers-- are second to none for production of great grapes. The magic is in the method. Newer harvesting techniques, for example, ensure that the grapes retain their flavour in time for fermentation. Most of the newcomers are from western or west-central Sicily, though the Etna region has not been overlooked entirely. What Sicilian vintners have achieved in the last six years is nothing short of brilliant.
The fact that the better wines are being produced on Sicilian family estates doesn't mean that these should be confused with the "house" wines created by numerous would-be "experts" whose knowledge of viticulture, harvesting or oenology is, at best, limited. Consider that the few houses we've mentioned are run by sophisticated vintners who, for example, prune the vines by as much as thirty-five percent to concentrate the grapes' flavour, then harvest the fruit at night (to avoid destructively torrid Sicilian autumn days), storing the grapes in cooled vats to forestall premature fermentation which can hinder bringing out the product's distinctive bouquet. Obsessed with quantity, Sicily's average backyard vintner doesn't pursue such methods. Not all nero d'avolas are created equal. Some of the privately-produced Sicilian reds are considerably higher in alcohol and density than the better ones produced by the emerging Sicilian wineries that are taking the international market by storm. Creating a great wine entails more than having your local produce fermented and then bottled under your own private label and riding the tails of a trend. This is obviously an important factor in selecting Sicilian wines here in Sicily, but the arcane private labels are rarely exported, so don't worry about them clouding your choice in London, New York, Tokyo or Toronto.
Sicily's traditional varietals are one thing, while the newer, complex blends are quite another. The new legal geographical designations (which Italians call DOC for "controlled denomination of origin") don't mean much. Regional whites like bianco d'Alcamo, though not without their merits, have yet to make their mark among oenophiles. In fact, they're still way too far of the mark to deserve serious consideration by connoisseurs. Italians don't take them very seriously yet, choosing instead to judge each vintage wine on its own merits. Maybe that's how it was meant to be. Meanwhile, the new Sicilian wines are winning awards at wine tastings and muscling their way into wine critics' lists around the world.
Author's Note: Best of Sicily's Sicilian wine page is a good primer if you're interested in Sicilian wine generally.
About the Author: Roberta Gangi has written numerous articles and one book dealing with Italian cultural and culinary history, and several food articles for Best of Sicily Magazine.