Count Testa's wines are part of a centuries-old Sicilian tradition. Import them directly from Alcamo, Italy
Welcome to Gorgo del Drago
The rolling hills of western Sicily have been one of Italy's largest contiguous grape-growing regions for over two thousand years, and this is where you'll find Gorgo del Drago, Count Testa's familial winery, which has been in operation for over a century. The feudal manor was known as Tarantola. Historically, Marsala, a fortified dessert and cooking wine of amber color, was the most popular export, but today there are plenty of table wines produced here - many of them local varietals.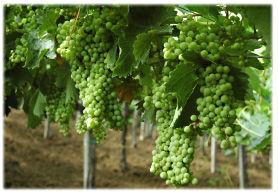 A Question of Color
From year to year, our extensive vineyards produce several grapes, particularly the deep red Nero d'Avola, which yields a robust wine, Inzolia, a Sicilian white, and Chardonnay, which needs no introduction. In a typical vintage, Gorgo del Drago bottles the hearty Nero d'Avola (14% alcohol by volume) and a white based on Inzolia and Chardonnay (13% alcohol). Our wines are identified by official appellation (denomination of origin). But what is it that makes Sicilian wines different?
The Sicilian Difference
It's the soil of course, but mostly the sunshine. From early June until harvest time in late August there's ample humidity but hardly ever a cloud in the sky in this part of Sicily. Until recent years it was a well-kept secret that certain Sicilian wines - especially Nero d'Avola - were sent to France each year to "fortify" French wines (particularly reds) lacking body. In Sicily, as elsewhere, some harvests are better than others, but due to the stability of the climate and weather there's rarely a "poor" vintage.
Purchasing Gorgo del Drago Wines
Presently, our wines are available exclusively on a wholesale basis - convenient if you have a restaurant or wine shop with a high rate of turnover. Our winery is located between Alcamo and Camporeale, and we export by ship container directly from the Port of Palermo. Depending on where you do business, you may need a wine import license to import Italian wines. Recent years have seen a growing number of firms doing so in an attempt to offer their customers something out of the ordinary that isn't sold by the competitor down the street or across town. Speaking generally, wine orders should be placed by early June.
Shipping Details and Quantities
We'll be happy to provide details upon request. Speaking generally, the typical minimum purchase is at least a few thousand bottles, shipped by container from FOB from the Port of Palermo, Italy. Container capacities vary, but for reference let's say that the standard size accomodates around 10,000 bottles. Smaller containers are sometimes available, and the possibility exists of leasing a half-container. This presumes that you have an import license (and whatever other authorisation is required in your country) or are represented by an agent or broker who does have one.
Samples for Merchants
We can send you a sample of our wines but we ask that you pay the shipping, an expense which will be deducted from your first purchase. The reason for this is that (unfortunately) we receive many requests for samples from wine lovers who do not actually represent buyers. We're happy that they like our wines but we do have to make a profit.
Organic Olive Oil
Our estate has olive groves and we bottle a limited quantity of organic olive oil each year. In Sicily the olives are harvested in October so orders should be placed by early August. And yes, we offer co-branding.
To Contact Us
Our international marketing representative for English-speaking countries is Best of Sicily. Email us at wine@bestofsicily.com.
© 2009-2012 Azienda Agricola Testa, Palermo, Italy