Magazine
Best of Sicily
Arts & Culture
Fashion
Food & Wine
History & Culture
About Us
Travel Faqs
Contact
Map of Sicily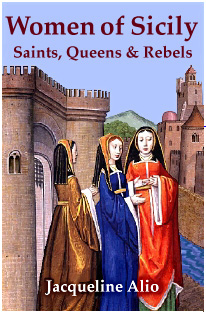 Women of Sicily: Saints, Queens & Rebels. Meet a time­less sister­hood of pious Roman maidens, stead­fast Sicilian queens, and a Jewish mother who faced the horrors of the Inquisi­tion. Find an island's feminine soul in the first book about Sicily's historical women written in English by a Sicilian woman in Sicily. (224 pages on acid-free paper, ebook available) Read more.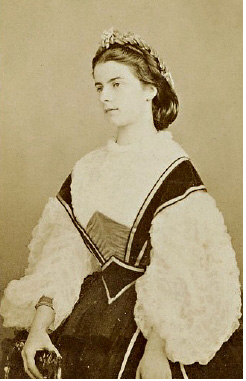 Perhaps inclined to associate Sicilian royalty with the Middle Ages, people are sometimes surprised to learn that Sicily's last Queen, the consort of the last King of the Two Sicilies (Naples and Sicily), lived well into the twentieth century, to be fondly remembered by the European aristocracy. Born in 1841, Maria Sophia Wittelsbach was the daughter of Maximilian, Duke in Bavaria. She was raised on the family's Alpine country estate, developing an early love for equestrian sports and country life. In this she was similar to her siblings, and particularly to her elder sister, Elisabeth ("Sissi"), who wed Emperor Franz Joseph I of Austria. Like Sissi, Maria Sophia was rather impulsive, and no slave to tradition or protocol, though she had a great sense of duty. By most contemporary accounts, both were exceptionally intelligent and beautiful.
In 1859, the young Maria Sophia wed Francesco of the Two Sicilies (with whom she is shown in this photograph taken at Naples shortly after her betrothal). Then styled Duke of Calabria, Francesco was the eldest son and heir of King Ferdinando II of the Two Sicilies. Maria Sophia's younger sister, Mathilde, eventually married Francesco's half-brother Luigi, a younger son of Ferdinando II. Ferdinando died later in the year and Francesco ascended the throne as King Francesco II. Descended from the House of Bourbon, the dynasty had reigned in Naples since 1734, and Francesco spoke Neapolitan as his mother tongue.
A devout Catholic loyal to the cause of continued independence for Italy's South – Naples was at that time the largest and most prosperous city of Italy, and Palermo was actually wealthier than Milan or Turin – Francesco II opposed the goal of Italian political unification as it was advocated by exponents in Turin. This reflected no nationalistic bigotry. In fact Francesco's mother, Maria Cristina (who had died giving birth to Francesco), was a Savoy, making Francesco a cousin of King Vittorio Emanuele II of Sardinia, who ruled from Turin.
Nevertheless, Piedmontese troops attacked Sicily in 1860 under the command of Giuseppe Garibaldi. Francesco, who commanded Italy's strongest army, failed to respond, and the Savoyard troops eventually invaded the Kingdom's mainland territories, beginning with Calabria. Tacit support from the British navy, and treason on the part of high officers in the Neapolitan army, made this undeclared war that much easier for the invaders to win.
Under the command of loyalist officers, the fortress of Messina held out for months, but Francesco, wishing to avoid a civilian slaughter like that which had taken place at Palermo, abandoned Naples in favour of the coastal stronghold at Gaeta to the north. Maria Sophia followed him, and during the siege in early 1861 earned the nickname "Heroine of Gaeta." A falsified referendum (showing a victory of 99 percent)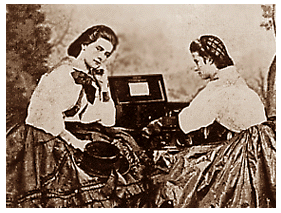 confirmed Vittorio Emanuele II as "King of Italy." The royal Neapolitan couple were exiled following the surrender of Gaeta.
Francesco and Maria Sophia lived for a time in Rome, at Palazzo Farnese, a family home (now the French Embassy). There, in 1869, Maria Sophia gave birth to a daughter, Maria Cristina, who died after three months. Rome soon fell to troops of the new "Kingdom of Italy," and Francesco and Maria Sophia departed for Paris. They lived apart for some years, though they often spent time together. (In the smaller photograph shown here, we see Maria Sophia, at the left, with her sister, Mathilde.)
Maria Sophia passed much of her time in Paris and Munich. Francesco II died at Arco, near Trent (then part of Austria), in 1894. Plagued by riots against the government and the Savoys, the Kingdom of Italy continued to vilify the Royal House of Naples, which remained exiled until the Allied occupation of southern Italy in 1943. Much of this defamation was directed at Maria Sophia. The establishment, in 1946, of Sicily as a semi-autonomous region of the Kingdom of Italy, and then the Italian Republic, confirmed Francesco's view that Italy would always be an ensemble of culturally diverse regions.
The last Queen of Sicily later moved to Munich, where she died in 1925. She was immortalised in Proust's La Prisonnière. Maria Sophia reposes with her husband and daughter in the Royal Chapel of the Basilica of Santa Chiara in Naples.
Harold Acton wrote that, "age spiritualised her beauty." Well into her 80s, Her Majesty rode the horses she so loved. Her niece, the late Princess Urraca of the Two Sicilies, remembered Maria Sophia as "very dignified." The intrepid queen has never vanished from the collective memory of the Sicilian aristocracy, whose knowledge of history far transcends what is written in school texts. Such memories are perhaps ironic, since Maria Sophia herself never dwelled on the past.
About the Author: Historian Jacqueline Alio wrote Women of Sicily - Saints, Queens & Rebels and co-authored The Peoples of Sicily - A Multicultural Legacy.