Books & Articles by Jacqueline Alio
Meet one of Sicily's historians in her element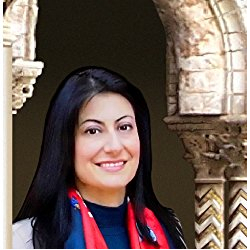 Jacqueline Alio is one of Sicily's leading historians, and one of just a few whose work has been published in English for an international readership. Over the years, her writings have been read by millions – the articles on this site are seen by some two million unique visitors and returning readers each year.
She has authored four books – each a landmark in its field – and contributed to several more. A lot of histories evoke the essence of a place. Jackie's capture its spirit. (Visit Jackie's author page on Amazon.)
Consulted by The History Channel and other media, Jackie has earned a reputation as an expert in her field. In addition to her research and publishing, she lectures on tours of Palermo, Monreale and other places of historical interest – specialized group tours around Sicily as well as personalized tours in the Palermo area.
Educated on both sides of the Atlantic, multilingual Jackie Alio is one of the most knowledgeable scholars in Sicily in the study of Sicily's medieval Jewish communities, having published original, scholarly research on this topic. (Were any Jews ennobled in the Kingdom of Sicily? Ask Jackie Alio.)
We have been fortunate to be able to publish some of Jackie's articles on this site:
Margaret of Navarre. Queen regent of Sicily during an important point in the island's history.
Saint Agatha. One of Sicily's earliest saints was an intrepid woman, patroness of Catania.
Saint Lucy. Perhaps Sicily's most famous woman, venerated as the patroness of Siracusa.
The Genoard. Palermo's vast medieval Norman-Arab park and hunting reserve.
Benjamin of Tudela. A Jewish traveler in Norman Sicily.
The Jews of Palermo. A community that is gone but hardly forgotten.
The Mikveh of Siracusa. Europe's oldest Jewish ritual bath.
Joan Plantagenet. The daughter of England's Henry II as Queen of Sicily.
Constance of Aragon. Queen of Sicily, wife of Frederick II.
Thomas Becket and Sicily. How the Anglo-Norman saint left his mark on the island he never saw.
Aphrodite. Or Astarte or Venus... The goddess of love.
Maria Sophia of Bavaria. The last Queen of the Two Sicilies.