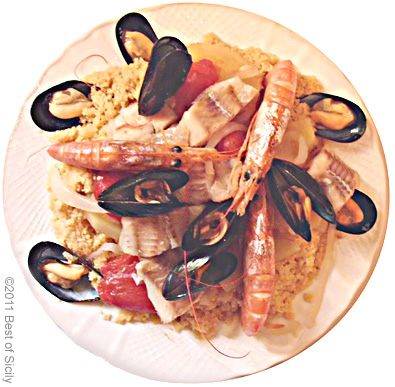 Some "Sicilian" dishes (like kebabs) have made their way onto our island quite recently, but there's at least one with a sound pedigree spanning around ten centuries.
Couscous is a granular food made from semola of durum wheat, similar to pasta. It may even be considered an early form of pasta (spaghetti was known in Sicily during the twelfth century), but while pasta is made from flour - produced from finely ground grains of durum wheat - semola actually comes from the coarse pieces remaining after most of the grain has been ground. Couscous should not be confused with tabouleh, a cold salad made with the coarser, crunchier bulgur (also derived from a variety of whole-grain durum wheat), though in Sicily a kind of pseudo-taboule made with couscous-type semola is served in restaurants. Semola is much finer, softer, pastier and stickier than bulgur, resembling and tasting more like pasta than like chips of grain.
Culinary historians used to believe that couscous, which is popular in Tunisia and other parts of northern Africa, was re-introduced in Sicily after 1600 following an absence of four centuries, but it seems to have been prepared in the Trapani, Sciacca and Marsala areas continuously since Arab times. There's an old Sicilian word for it, cuscusu, which may be traced to the fourteenth century. The earliest form of couscous was probably made with millet.
Among the numerous couscous recipes, each region has its own variations, with Sicily's being less spicey than Tunisia's or Libya's.
Based on what appears to be a fairly modern recipe (including ingredients discovered in the Americas after 1500), Sicilian couscous is made of rapidly steamed, flavored semola (prepared with fish or meat broth) "dried" and topped with either a fish or meat based sauce of vegetables, usually including potatoes, carrots, onions, celery, parsley, garlic, a few peeled tomatoes, olive oil, paprika, saffron and other spices.
A specific method and utensils are used in the process, and the couscous and sauce are served in separate terra cotta bowls, diners serving themselves as much of the sauce as they wish. Meat couscous usually contains chunks of beef and either lamb (or mutton), goat meat or rabbit.
Classic couscous alla trapanese is the fish-and-seafood couscous for which Trapani is famous. It contains a deep-sea "white" fish such as snapper or sea bass (or cod) with the addition of mussels or shrimp. (The three large shrimp in the plate shown here represent the three-legged trinacria of Sicily.) There is no single recipe for it but literally dozens. This is really a cool-weather dish. A visit to Erice or Trapani (where there's an annual couscous festival in late September) is hardly complete without a bowl of couscous.
About the Author: Roberta Gangi has written numerous articles and one book dealing with Italian cultural and culinary history, and a number of food and wine articles for Best of Sicily Magazine.