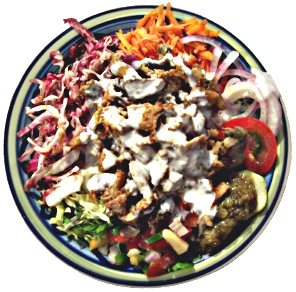 When did kebabs become Sicilian? The "Italianization" of a foreign idea - Italians adopting something as their own - can be a surprisingly rapid and painless process. Especially where it concerns food. In the years immediately following World War II one of the great "innovations" was the refrigerator, virtually unknown in Sicily until that time but long in use in the United States. Among other things, the introduction of this convenience spawned gelaterias and the sale of granita. For over a decade the units were known as "frigidaires" (the Italian is frigorifero), the word based on their American trade name.
There's no sign of Italians coining a local word for the kebab, a "foreign" food that has taken Sicily - and much of Europe - by storm. This Middle Eastern specialty is based on turkey-meat souvlaki accompanied by (among other things) lettuce, radicchio, carrots, cucumbers, onions and yogurt sauce. Whether you define it as Lebanese, Turkish or Greek, it isn't Italian in any contemporary sense.
But its pedigree may be slightly Sicilian, though here we enter the realm of historical hypothesis. Sicilian cuisine would be more similar to Greek and Middle Eastern cooking had history taken a different course. Into the reign of Frederick II, the Byzantine and Arab elements of Sicilian society could still be identified, and with them their cuisine. By the end of the Middle Ages that was no longer the case.
But is this yet another "Tex Mex" - one cuisine melded to another to create a kind of hybrid? There's no clear answer because no two restaurants serve the kebab in exactly the same way. With it has arrived a variety of Arab specialties, from Tunisian briq to Lebanese hummus.
While the kebab hasn't supplanted pasta or pizza as a favorite Sicilian food, it has become extremely popular in recent years, due partly to a weak economy that discourages pricey restaurant dinners. While it isn't yet "street food," the kebab has been embraced very readily by all social classes, not exclusively those usually thought to be more enlightened. It has been suggested that a certain similarity to spleen sandwiches has endeared the kebab to the popolino as much as the aristocracy and every class in-between. In stark contrast to this, the patrons of Sicily's sushi bars are anything but "popolani."
In Palermo an entire district seems to be dedicated to the kebab!
Piazza Olivella is one of the city's most popular informal spots, not only during the warmer months but most of the year. There are over thirty restaurants in and around the square near the archeological museum and San Filippo Neri Church, within the rectangle formed by Via Cavour, Via Roma and Via Maqueda, near the Teatro Massimo. Dozens of dining places, wine bars and pubs are located in the square itself and also along Via Orologio, Via Bara all'Olivella, Via Spinuzza and the surrounding streets. Open evenings beginning around 8, with outdoor tables year round, many of the restaurants offer hot sandwiches and other delicious specialties It's crowded on Friday and Saturday evenings, when you should arrive just before 8 unless you want to wait for a table. And nobody should have to wait too long for a kebab.
About the Author: Roberta Gangi has written numerous articles and one book dealing with Italian cultural and culinary history, and a number of food and wine articles for Best of Sicily Magazine.