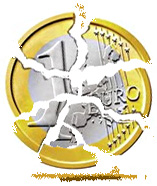 RESERVE EARLY and SAVE: We're smashing prices! A golden opportunity for an exceptional price on our Golden Sicily tour, with almost-weekly departures. Reserve your tour for 2014 or 2015 right now for up to two hundred euros off the standard price. Each tour has a maximum of only 18 participants, so reserve soon to guarantee your place. A hundred euros is around US $140 or GB £82. Click or tap on the shattered euro coin to convert your currency. We hope to see you in Sicily this year!



There are at least a thousand ways to experience our island in the sun. We have around a hundred suggestions to get you started. Personalized travel, private tours, tailor-made itineraries and much more.
For a simple, ready-made solution, choose one of our scheduled tours of Sicily. You'll find dozens of start-dates—almost every week of the year—more than any other company in the world.
A few of the most popular ideas are presented on this page. You imagine it, we plan it. It's that simple. Because our Sicily travel experts are actually based in Sicily, you're dealing directly with the specialists planning and overseeing your Sicilian holiday rather than a travel agent who must rely on an "outsourced" consultant. Contact us if you'd like to arrange something that you don't see here.
About Us: We're the kind of Sicily-based company that your local travel agent uses! Based in Palermo (Sicily's largest city), Tradizione Turismo Chat & Tour (whose services are marketed under the names Best of Sicily and Sicily Concierge) is a licensed tour operator and travel services company associated with the IATA and the American Society of Travel Agents. Most of the services mentioned on this page are provided directly by Tradizione Turismo; some (specifically those presented on Best of Sicily's Bed & Breakfast and Hotel pages) are offered by other firms and this is clearly indicated. Visit our main tours page for terms and purchase conditions, as well as faqs, regarding our tours and excursions.
TRAVEL TIPS
Visas: If you're an EU citizen you probably won't need a visa to enter Italy. Visitors from certain other countries can visit Italy for up to 3 months without a visa, though their passports must be valid for the entire duration of their stay. These countries include the USA, Canada, Japan, Australia and others. Check the Italian Foreign Ministry website or contact the nearest Italian consulate to see whether you need a visa to enter Italy.
Credit Cards: Some restaurants and shops only accept cash. Mastercard and Visa are the most widely accepted credit cards; fewer Sicilian establishments accept American Express.
Currency Exchange: Italy's currency is the euro (€). Banks cannot exchange large amounts of currency, usually limiting transactions to €400 at a time. Visit our currency converter for current exchange rates.
Dining: Lunch, the main meal of the day, is usually served around 1, dinner at 8. Expect exceptional Sicilian wines, but no poultry. Few restaurants in Sicily serve chicken, which is roasted on a skewer and sold at stands as a take-away meal. Pizza is an evening food, and coffees containing milk (cappuccino) are usually served in the morning.
Tipping: 10% is normal in restaurants.
Smoking: Not permitted in restaurants or in any buildings open to the public, including stores and hotels.
Safety: To discourage purse snatchers women should carry small purses, if any, Along streets, carry your purse on the side away from traffic, as some thieves steal them while riding motor scooters. Backpacks should not be worn (but instead carried) in crowded areas or on buses.
Dress: In churches, including Monreale Abbey, Cefalù Cathedral and Palermo's Palatine Chapel, women should not enter with uncovered arms or wearing miniskirts or very short pants. Men should not enter wearing short pants.
Weather: Visit Best of Sicily's weather page for forecasts and current conditions, as well as an idea of what to expect when you're in Sicily.
Business Hours: Most stores and offices are closed in the afternoon from 1 until 4, when they open until 7 or 8.