Magazine Index
Best of Sicily
Arts & Culture
Fashion
Food & Wine
History & Society
About Us
Travel Faqs
Contact
Map of Sicily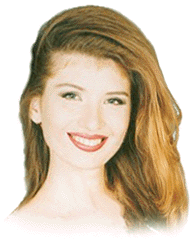 In Sicily, the face of the New Bride, representing a growing number of Sicily's young wives, has dark brown eyes and honey colored hair. Or dark hair with blue eyes. Typically Sicilian, she is named Anna, Valentina or Nicoletta and she's around twenty-eight years old. She has a university education and a subdued European elegance. She's stylish in a sophisticated, Italian way, boasting a slender figure that seems made for a tiny black Valentino miniskirt. She speaks flawless Italian with a slight Russian accent. Wait a second! No, that last observation was not an error. Anna, Valentina or Nicoletta (or Tatiana or Svetlana) has married an Italian man she met in eastern Europe and now makes her home in Palermo or Catania. And she is part of a virtual tidal wave of foreign women --particularly eastern Europeans-- in Italy about to radically change the balance of the sexes (genders) in Italian society, where women already constitute a slight majority (about 51%) of the population. In stark contrast, hardly any of the relatively few foreign men who marry Italian women decide to live in Italy, choosing instead to return to their home countries with their new Italian wives --a trend dating from the time of the infamous "G.I. brides" who emigrated with their American husbands immediately following the Second World War, when thousands of Sicily's young women wed Allied soldiers they met in 1943 to escape terrible poverty at home. That phenomenon deprived many Sicilian men of the opportunity to marry some of the most attractive local women. This time it's the Italian men who are reaping the harvest of desirable foreign spouses, and it has made some Italian women angry as can be. Today, nearly all of the immigrants to Italy who wed Italians and remain here are women from eastern Europe, and many are remarkably well-educated compared to their Italian sisters, and certainly compared to the typical English nanny in Sicily. One cannot generalise but certain trends can be identified. Many young Romanian women, for example, work in Italy as housekeepers, while a significant number of Czech women work in entertainment-related fields.
A growing number of Italian men seem to find these foreign women more attractive or appealing than local girls, and in many cases social factors appear to be as important as aesthetic ones. (Italy, after all, has its fair share of beautiful women.) It takes two to tango, and the trend is partially explained by the willingness of well-educated, attractive eastern European women to seek better lives in "The West." Even Sicily, with its frighteningly high level of unemployment, is preferable to some impoverished regions of the former Soviet Block. For most of the women we spoke with, Italian men themselves were not a particularly alluring attraction compared to Americans or anybody else. It just so happens that immigration into Italy, with its notoriously soft borders and lax immigration policies, is far easier than getting a visa to enter the United States or Canada. Many foreign women initially enter Italy illegally.
Some Sicilian men believe that the new immigrants are less snobbish or suspicious than women who have grown up in places like Palermo or Catania. Having experienced more serious hardships at home, they seem less materialistic, "spoiled" or superficial. At first, this sounds like simple subjective bias, but such statements could be defended based on the idea that different social norms and living conditions prevail in different places. What's clear is that the opporunity to court a more flexible, less demanding foreign woman is a powerful temptation that could leave many Sicilian women husbandless. Already there are numerous stories circulating of irate local women who have lost boyfriends, and even husbands, to attractive foreign girls. As the Czech Republic and other countries join the European Union, easier legal immigration means that even more foreign women will soon be entering Italy each year, depleting the number of eligible women in those countries while increasing the number in Italy. As employment opportunities are limited even for Italian women, it is clear that marriage one of the main reasons behind this kind of immigration, though a few Czech and Albanian women work in northern Italy as prostitutes (actually a legal profession in Italy). Immigration for marriage is hardly "balanced" when the overwhelming majority of immigrants are women.
Internet matchmaking, and the increasing knowledge of English (the world's most important language) by younger Italians, makes finding a foreign companion easier than ever. It's no longer unusual to see a local man with a Slavic woman in a trendy café or elegant restaurant off Via Libertà, Palermo's stylish, tree-lined main street. Most of the women in this foreign "invasion" are eastern Europeans, but there's also an increasing, if far less evident, presence of Scandinavian and north African women married to Sicilian men. It's almost as though these Sicilian men were rediscovering their remote Norman or Arab roots.
The influx of eastern European brides is too recent a phenomenon for any credible "scientific" conclusions to be drawn about the permanence of these marriages or their wider impact on Sicilian life. Clearly, some foreign women married (in Sicily) to Sicilians have been more fortunate than others. American women married to Sicilian men report a higher incidence of marital difficulties, many resulting in divorce. The novelty or prestige of being married to a pretty blonde foreigner (not that all foreign brides are blondes but blondness is an obsession with many Sicilian men) doesn't always translate into an enduring relationship. What's certain is that perceptions have changed since the 1850s, when Emily Lowe penned her very Victorian Unprotected Females in Sicily.
Love has no universal pattern, and it knows no geographical boundaries. But people usually have at least a general idea of what they seek, or do not seek, in their hypothetically "perfect" mate. With that in mind, we asked a few Sicilian men how, after years of dating Italian girls, they so easily fell in love with foreign ones. You may be surprised at some of their direct, if slightly opinionated, observations:
Giacomo, who lives in Palermo, is 35 years old and his marriage to Ludmilla, 27, who's from northern Russia, is his first. They're expecting their first child soon. "We met in Russia through a matchmaking service," he explains. "Milli is a dream. My mother was a little reticent when she first met her, but now they absolutely adore each other. Look, I have nothing against Italian women, but they're a strange breed, even if they say the same thing about us men. When I would give a gift to my last (Italian) girlfriend, who was with me for almost four years, it's as if it was never enough. I suppose that a diamond can always be bigger... But Maria loves me, not just what I can buy her."
Salvatore, 42, also Palermitan, is married to Maria, 32, who is from Romania. Both were divorcees, but neither had children from the earlier marriage. "We got married in the Orthodox church. Initially, it was a new experience to be involved with a woman who considers spirituality important, because among 'sophisticated' Italian girls that kind of thing really doesn't exist today. But the Romanians appreciate freedom of worship because they were deprived of it for so long. I was surprised at how family oriented and traditional Maria is. Much moreso than most Italian girls. The Romanian language is a Latin tongue, and Maria already spoke Italian well when we met. In fact, she had lived in Italy for three years. She wasn't a 'mail-order' bride. It took me a long time, but I've finally found the love of my life!"
Stefano, 34, lives in Catania and is engaged to Larissa, 30, who's Russian. He had these strong (and uncensored) remarks about Italian attitudes: "It's very unfortunate that many Italian women view the Russian girls as opportunists or prostitutes. It's plain envy. The typical Sicilian girl doesn't know how to compete against a woman from a different culture. A lot of Sicilian girls I've met over the years play it coy and demure at home but will do almost anything with any foreign man when they're outside Italy. I know a pretty Sicilian tour guide in her mid thirties who has 'boyfriends' in London, Paris, New York and anyplace but Sicily. She actually hates Sicilian men, and considers us all 'pigs,' but she'd be the first person to criticise Larissa and other foreign girls who live in Italy and are happy with somebody like me. That 'holier than thou' attitude really annoys me because it seems to imply that single Sicilian women are all precious virgins while the foreigners are all worthless whores. But Italian women often use sex or flirtation to get what they want. In Italy, even a woman being interviewed for a position as a teacher uses her nice legs and sultry smile to get the job! So the criticisms of foreign women seem hypocritical. In Russia, the role of women is a little different --in marriage but also in academic and professional life. What's important is that Larissa and I are happy with each other."
Roberto, 38, who lives outside Palermo, recently wed Sonya, now 31, who's from Belarus. "Most of my (male) friends who've met my wife envy me, not because Sonya is physically beautiful --though she certainly is-- but because she's a real person. With Sicilian women, I got tired of things like the girl who dated me three or four times before telling me she was having an affair with a married man in Catania on trial for Mafia association, and the girl who angrily accused me of being 'out of place' for sending her flowers after she had led me to think she wanted to go out with me. Then there was my longterm girlfriend, usually a really sweet girl, who got angry with me when I gave her a Christmas present --an expensive piece of jewellry-- that she didn't particularly like. That's when I began thinking about looking for romance outside Italy. Don't misunderstand me. There are good people here, but many Sicilian women are fickle or immature and it gets tiresome after twenty years. And I cannot tell you how many cheat on their husbands! I found that eastern Europe was a little different. Not necessarily better in every respect. There are cultural differences, naturally, but it's amazing how quickly my wife adapted to life in Italy."
About the Author: Marilù Romano has written for various Italian magazines. This is her first article for Best of Sicily, and it required extensive "in-the-field" research. Special thanks to the men who allowed her to interview them, and to Mira Ivanova.