Magazine Index
Best of Sicily
Arts & Culture
Fashion
Food & Wine
History & Society
About Us
Travel Faqs
Contact
Map of Sicily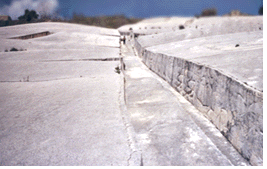 In 1968, a massive earthquake destroyed or seriously damaged several towns of the Belice Valley in western Sicily. The government's emergency and relief efforts were almost as disastrous as the earthquake itself. There were hundreds of casualties, and thousands remained homeless. In one town, bodies that could not be removed from beneath the rubble were literally eaten by domestic pigs. Monies earmarked for reconstruction and other assistance were hijacked by the Mafia and corrupt politicians. The incident proved the Italian state, as well as local authorities, to be impotent in the face of such catastrophes. Throughout Italy, the name "Belice" became a synonym for corruption in the wake of natural disasters, as in phrases like "this won't become another Belice."
Places like Poggioreale became ghost towns as communities were relocated en masse. Gibellina suffered a different fate. Here, it was decided to demolish what survived of seventeenth century structures and erect a vast, labyrinthine cement work of art to trace the path of streets without leaving any other trace of the town's history. Henceforth, descendants of people from "old" abandoned Gibellina would have nothing but an anonymous concrete edifice to commemorate their deceased kin.
Thus was born Burri's infamous Cretto ("Crevice"). The late Alberto Burri was not Sicilian but Tuscan, and was paid partly with funds which, in a more perfect world, might have gone to help Gibellina's displaced residents, whose new home was to be Gibellina Nuova ("New Gibellina"), an ugly settlement some sixteen miles away, populated by five thousand people. At the time of its construction, the Cretto was considered the world's largest outdoor sculpture
This maze may have been more appropriate, and more welcome, in another place.
About the Author: Antonella Gallo, who teaches art in Rome, has written numerous articles on arts and artists for Best of Sicily.