Magazine Index
Best of Sicily
Arts & Culture
Fashion
Food & Wine
History & Society
About Us
Travel Faqs
Contact
Map of Sicily


It's a hot Summer night on Rome's famed Spanish Steps. Italy's most important fashion show is almost over, leaving the impression of an evening of elegance culminating in a sigh. All that remains is the audience's belated introduction to the last designer. The creator. The artist. Finally she emerges. A tanned, graceful, petite, predictably stylish but surprisingly youngish fortysomething. She is Marella Ferrera, New Sicilian Woman and working mother. Owner of a fashion empire and Sicily's most important atelier, a Baroque palazzo occupying a long city block in central Catania. Her creations range from the most impulsive spur-of-the-moment designs to the classically aristocratic, most "traditionally" Sicilianesque formal gowns and wedding dresses. For the better part of a decade, the world-famous Marella Ferrera has been a status symbol in Italy, representing the place in the realm of fashion where Old meets New. Uniquely among Sicily's few internationally accomplished designers, Ferrera has remained in --or returned to-- the island where her artistic roots are deeper than those of the most ancient olive tree. Her distinctly Italianate approach to style is nothing if not eclectic. Her "Baroque" direction is only one of many (this Spring even New York's Ralph Lauren seems to have gone Baroque), but for a woman educated in Catania and Rome it is an instinctive choice. She may have been influenced by her environment (who isn't?), but Marella Ferrera, the woman, is her own creation.
Much has been written about Sicilian Style, or certain perceptions of it. Secretly, one almost wonders if women's fashion in Sicily began with an earlier incarnation of Marella Ferrera. Part of the Sicily, the Italy, the alluring Mediterranean that every woman dreams of, peopled by seventeenth-century princes and pirates. A place, or perhaps an intimate, uninterrupted dream, where every woman is both princess and seductress. A world where no woman is "ordinary." Fashion, in the hands of Marella Ferrera, is about more than noble silk, cool cotton or comforting wool --pure, natural fabrics whose very essence achieves a higher state of being in the evolution from raw material to wearable art.
Maybe it's the "naturalness" of her creations, whether high fashion or ready-to-wear, that sets them apart. You get the impression that a Ferrera design, however seemingly formal or obviously seductive, can be worn by a real woman. Marella herself shuns the theatrics favored by so many designers. Photo shoots and layouts make use of the perfect settings but without bizarre special effects or weird compositions, and the designer is reluctant to become a "personality." This is pure talent purely expressed.
And in its purest form, fashion is about aesthetics and old fashioned skill. By the time she's thirty, any woman knows that the clothes she wears must, so to speak, stand on their own two feet. They must become her, and become part of her. A name will only take an image so far. Recognition of this simple reality could, in itself, be considered a sign of maturity. In the designer's own words, "the clothes must harmonise perfectly with the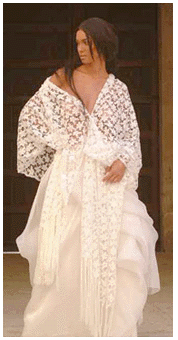 person wearing them." If the persona of a Ferrera design is a universal one, it would appear to have evolved over several generations of Ferreras. The Catania atelier has been in her family since 1958, but Marella decided to open her first boutique in Milan and pursue international shows before actively participating in the family business. She's paid her dues.
In the beginning, her collections were strictly personal, with no ready-to-wear component. Then came her perfume and finally, just a few years ago, the prêt-à-porter line, which is faithful to the couture collection. In a field characterised by flattering imitation, it boasts pieces reflecting the aristocratically traditional and the strikingly original. The two creations on this page may represent completely different styles, but either could effortlessly raise the body temperature of a male observer after sunset on a cool Summer evening --the closer the observer the higher the temperature. No trickery or illusion here, just simple cause and effect. And no underlying frills.
All this unbridled passion raises an interesting issue (actually more but since this is a general audience magazine we'll only deal with one here). Is fashion meant to be timeless, "classic" in the vernacular of our day, or should it change with each season? Must this year's dress necessarily be out of style next year? Is every designer's creation destined pass its days in a musty closet until the next revival? Must women be slaves to the trends, or whims, of fashion? To the eyes of several decidedly stylish women we consulted, Signora Ferrera's past collections, going back three or four years, don't look very dated. That's quite an accomplishment. The Ferrera Woman is a slave to nothing but her own aspirations.
In the end, even the most distinctive outfit looks different on every woman who wears it. Accessories and other accents, not to mention each woman's unique colouring, enhance the effect. Many, if not most, of Marella's designs achieve their effect with forms and textures rather than distracting colour. That adds to their their versatility or, if you prefer, "adaptability."
So, who is the Marella Ferrera Woman? We've been asking ourselves that question for the last few years, ever since we attended one of her shows in Catania.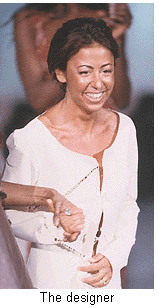 There seems to be no clear answer, but it's obvious that the Ferrera Woman is a supremely confident person, secure enough in her personality to handle the attention she's going to attract when she wears these clothes. Yes, they are "clothes," not theatrical costumes. This is beautiful, but real, fashion for real women.
You don't have to be a twenty-two year old fashion butterfly to wear a Ferrera design but having a presentable figure certainly helps. There's a strong individualistic element at work here, and many women begin to reach their individual style at some point in their thirties, following a decade or two of experimentation. But it could happen much earlier. Ferrera may not be the only designer to accomodate this sophisticated group, but in many ways her style suits women who know themselves. The Ferrera Woman is sophisticated and confident by definition, and classically "feminine" by choice.
Boldness is part of the formula, if fashion has any defined formulae or rules. Relaxed, effortless elegance is part of it, too. For some reason, many American women are inclined to think of Italian women as being especially stylish, but some of Marella Ferrera's most dedicated clients will be found far beyond Italian shores.
If Ferrera has few imitators, it's probably because her designs have as much to do with her, and her special cosmopolitan Catanian aura, as with their more obvious look and feel. It's also true that pieces in a ready-to-wear collection making use of the same high quality of fabrics she uses would cost a fortune. Though her approach has changed a little over the years, Marella still uses unorthodox natural materials, such as stones and glass, in some of her designs.
And so we return to the artist herself. Here we find a woman who attempts to avoid glorification, preferring to allow the work to speak for itself. It's the sign of a true artist. A consumate creator. Her own creation.
About the Author: André Mantegna has written about Maria Grazia Cucinotta and other Sicilian personalities.