Magazine Index
Best of Sicily
Arts & Culture
Fashion
Food & Wine
History & Society
About Us
Travel Faqs
Contact
Map of Sicily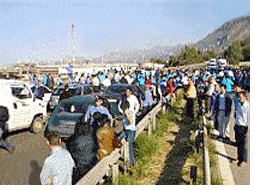 One of the largest manufacturing plants in Sicily, employing some 1,800 people, has closed, perhaps permanently, declaring a managed bankruptcy. Built thirty years ago, the Fiat auto assembly plant at Termini Imerese, on the coast midway between Palermo and Cefalù, makes automotive parts. Fiat, one of Europe's largest auto manufacturers (now partly owned by American auto giant General Motors and the Italian investment bank and consortium Mediobanca), built the plant as part of an incentive programme through which the company obtained tax breaks and other benefits for employing Sicilians. Unemployment in Sicily still hovers around 25% in real terms, and the opening of the plant offered a golden opportunity in one of western Europe's poorest regions.
Truth be told, unemployment and under-employment are high even in northern Italy (Fiat was founded in Turin and is still managed from that Piedmontese city), but the Termini Imerese plant was one of Sicily's largest single private employers. "Private" is a relative term, as many Italian companies receive extensive government support in various forms, and Fiat has been bailed out by the government on numerous occasions over the last twenty years. When Gianni Agnelli, longtime head of Fiat, died recently, the media heralded the passing of an era, but in fact the Agnelli family has not owned a controlling interest in Fiat for some time.
It appears that the Termini Imerese plant will resume at least partial production eventually, but the impact of these layoffs marks a milestone in the life of the Sicilian economy, even as thousands of Fiat workers in other parts of Italy face the same fate. The closing represents, in a very tangible way, Italy's gradual induction into the changing world of short-term employment. Jobs can no longer be guaranteed. Privatisation of state-run monopolies and the creation of fixed-term employment contracts for the private sector as well as the public one (including three-year terms for university professorships) signal the end of an economic epoch. Union protests --everything from blocking Palermo Airport to marching en masse down Palermo's main streets-- can do little to stem the tide of change. Here in Sicily, the day of the job-for-life is over, and downsizing has finally arrived.
Unions lament the changes, and have attempted to save jobs (ironically, by going on strike) but the Italian worker is under siege. Numerous Italian companies have moved their manufacturing facilities abroad in an effort to reduce labor costs. Sicily, which never enjoyed a substantial industrial base, has suffered as less expensive eastern European labour markets open. No Italian government incentive can hope to compete in such an environment. Attitudes seem to have changed, too. On the street, public sympathy for the Fiat workers is not what it would have been two decades ago.
On a local level, the situation at Termini represents some particularly disturbing conditions. Not surprisingly, the construction of the plant is believed to have been undertaken by Mafia-controlled companies, with local politicians receiving payoffs in exchange for directing certain contractors to Fiat and the regional government. That's not a novel revelation, but the Italian national media picked up on it in reporting on the Termini Imerese story. Personnel policies at the plant appear to have been lax at times. Not only were people often hired based on factors other than actual qualifications, but stories abound of workers "punching in" daily and then going off to do other things in town before returning to punch out at the end of their shifts. This too is a rather common practice; several years ago the Guardia di Finanza (Treasury Police) "busted" a bunch of public employees at several Palermo offices for the same offense, and under idiosyncratic Italian labour law none could be fired. However, one doubts whether Italy's trade unions will be able to block the substantial changes that the government is proposing regarding dismissals and contracts.
The fact remains that nearly two thousand people have lost their jobs, at least for now, and in a poor local economy may never find other comparable employment. The government-supported programmes for call centre operators and other Information Age jobs are reserved for people under 30, and most of Fiat's workers in Sicily are over that age. The suggestion that they could find well-paying jobs in tourism is grossly unrealistic. At Termini Imerese itself, there are no beaches, and there's no indication that the nearby tourist sites (Porticello, Cefalù, Caccamo Castle, the Himera archeological site) could or would provide many new jobs. Termini's coastline was destroyed to build Fiat and other industrial plants, many of which were never operational. (The abandoned, semi-constructed buildings along the coast resemble an industrial ghost town.) When Fiat's Termini plant re-opens, as the company's management promises, it will be as a streamlined shadow of its former self.
Whether Italy is (or isn't) a welfare state is a debate better left to economists, but in a Sicilian population of about five million, the hypothesis that the loss of fewer than two thousand positions could have a catastrophic regional impact lacks credibility. In truth, fewer than ten percent of Italians work for companies that employ more than two hundred people. As part of a trend, the recent work force cuts at Italtel (an electronics assembly plant near Carini) are almost as disturbing as those at Fiat. Whatever the case, the closing --or downsizing-- of this factory is a sad sign of the times.
About the Author: Palermo native Vincenzo Salerno has written biographies of several famous Sicilians, including Frederick II and Giuseppe di Lampedusa.