Magazine Index
Best of Sicily
Arts & Culture
Fashion
Food & Wine
History & Society
About Us
Travel Faqs
Contact
Map of Sicily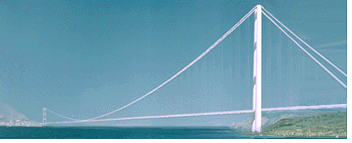 With the exception of Sardinia, Sicily is the only region of Italy which cannot be serviced by the country's fastest "Eurostar" trains. That's because there's no bridge or tunnel across the Strait of Messina. (Presently, trains are loaded onto ferries for the crossing.) The national government recently announced "definitively" that the project would be begun "soon" and completed in about eleven years. According to specifications, it will be the world's longest suspension bridge of its particular kind (between two towers), its centre span, at 3,300 metres, eclipsing those of Japan's Akashi Kaikyo (at 1,991) and Denmark's Great Bealt (1,624), as well as the Verrazano Narrows and Golden Gate. This length is necessary to avoid the strait's phenomenal depths, and the design allows the structure to withstand earthquakes measuring as high as 7.1 on the Richter scale, a seismic action greater than that which destroyed most of Messina in 1908. The bridge will have twelve lanes for vehicle traffic and two train tracks. A total ferry transit time of as much as an hour for trains, somewhat less for cars (the actual nautical crossing takes as little as 25 minutes), will be reduced by the 3.7 kilometre total span. It will be the last great architectural feat of Western Europe, making it possible to drive directly (without need of ferries) from a point in Sicily south of certain parts of northern Africa to a point almost on the Arctic Circle --or northern Scotland or the heart of Russia.
Amid popular pleas to avoid assigning construction contracts to Mafia-controlled companies (a problem prevalent throughout southern Italy but worse in Sicily and Calabria), politicians promised strict review procedures to ensure that corruption might be avoided. Among northern firms bidding on such contracts, simple bribes ("tangenti") are more frequent than organised crime per se.
Only since the 1980s has the bridge proposal been studied seriously. Apart from endemic political corruption, potential special interests and plain indifference, environmental factors have been cited as a reason for not building the bridge. However, environmentalists rarely explain precisely how a bridge would, in itself, threaten wildlife or the coastline moreso than the current maritime traffic, and reasonably reliable environmental studies indicate that the bridge will cause no undue damage. The possibility of earthquakes is sometimes mentioned, but San Francisco's bridge has thus far withstood seismic events and poses no obvious environmental threat. On the contrary, it is well integrated into the marine and coastal environments.
The Sicily-Calabria bridge is not a new concept. Bridges and tunnels have been proposed since the 1930s. Even Benito Mussolini voiced the idea, dismissed as an idle boast. The dictator's inept government lacked the technical expertise and money needed to complete such a project successfully (having erected a few ugly government buildings but failing to provide most parts of Sicily with modern roads, running water or even electricity). But in the post-war era, the technology and money to complete the bridge clearly existed elsewhere. At one point, the American firm that designed the Verrazano Narrows bridge reportedly proposed a Sicily-Calabria project. Today, the undertaking of certain civil engineering projects by foreign firms (the Palermo-Catania Motorway is an example) is attributed to many factors, but not usually to questions of professional competence, which in today's Italy is not lacking. A very real problem with projects of this magnitude is that delay is costly; everything becomes more expensive with passing time, the enemy of progress. The cost of the bridge will be astounding, necessitating investment from various quarters, including foreign ones. The Italian government simply cannot afford the billions required to finance it, though national sources of funding may have been sufficient as recently as 1980.
Whether the bridge improves the Sicilian economy is open to debate. Trucks and trains certainly manage to get across the Strait without excessive difficulty, even though the bridge will be a great convenience. Ferry strikes will no longer be a problem.
Charybdis and Scylla, the forces that menaced Odysseus (Ulysses) at the Strait of Messina, may finally be subdued. The whirlpools, though much smaller than those of myth, are very real, if not dangerous for motorised vessels, and Scylla gave a nearby Calabrian coastal town its name. Nobody has seen any sea monsters recently, and one hopes the bridge does not become an unwieldly economic beast.
In Sicily, the greatest natural wonder of Europe and the Mediterranean, Mount Etna, will be joined by the region's greatest technological wonder.
It is the longest-awaited civil engineering project in Italian history, but for now the bridge dwells in the realm of hypothesis. It will be interesting to see. Finally.
About the Author: Architect Carlo Trabia has written for various magazines and professional journals.