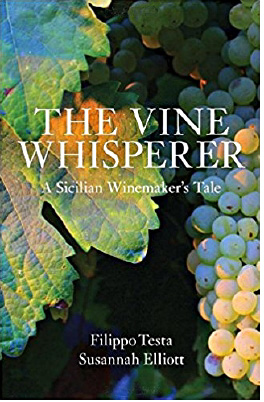 One of the few good things to be said about the unchecked wave of memoirs that has engulfed us in recent years is that, inevitably, a handful of interesting stories are bound to emerge from the swamp. Among them is that of Count Filippo Testa.
Much as the word is overused, unique is an apt description of The Vine Whisperer, which very gently accompanies the reader into at least five overlapping realities that form a great part of the complex social milieu of Sicily. This is a true story of the aristocracy, wine making, commerce, rural life, and the Mafia. Written in English (there is no Italian edition), it is the first book of its kind ever authored by a Sicilian for an international readership. These are Testa's experiences, his words given Anglophone eloquence by Susannah Elliott, an erudite Englishwoman with a background in theatre and public relations.
Following some notes about the count's childhood, we are treated to a seamless segue to his obsession with keyboards – whether on a piano or a computer – and then, years later, his successful effort to resuscitate the family business, a winery. As a vintner, he must contend with all manner of menaces, from ravenous insects to rabid criminals.
The way he overcomes both threats forms the focal point of his struggle. The insects drive him to organic farming methods, while the extortionists make him stronger. Through it all, as a subtle subtext, is an existential crisis, not a weakness but the logical outgrowth of a life and career for which there could never be a convenient script. Here the seeds of doubt are crushed into must and fermented into something far more palatable than what the protagonist envisaged at the beginning of his journey.
Until now, most of the memoirs published in English about life in Sicily have been the result of what somebody sardonically called "Little Red Riding Hood Syndrome." The expression refers to the kind of memoir written by a foreign woman, an "innocent abroad," who goes to a new country and, once there, barely escapes the clutches of the Big Bad Wolf to find love and a happy ending.
Forget that cliché. Filippo Testa's story is part of an entirely different universe, one where the author's antagonists are not foreigners. Here the setting is a place where the protagonist knows the land and its people all too well. What he seeks to know better is himself. In mastering his environment he becomes the master of his own destiny.
This is a story altogether more satisfying than a simplistic tale of heroes and villains.
Available from Amazon and the publisher. Also sold in Palermo at Libreria del Corso, Via Vittorio Emanuele 332. (Amazon UK can ship the book beyond Britain, and the ebook can be purchased from various Amazon sites.)
About the Author: Roberto Scalea lives and works in western Sicily.