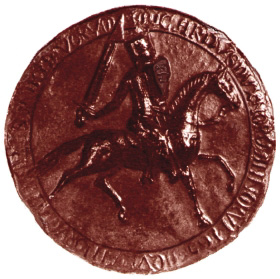 Richard I (1157-1199) ruled England beginning in 1189. He is known in history as Richard the Lion-Hearted, or Richard Coeur de Lion. He was a son of Henry II, the first king of the Plantagenet dynasty, and Eleanor of Aquitaine.
Born at Oxford in 1157, Richard I "Plantagenet" was King of England for a decade until his death in 1199, and also ruled Normandy and most of France. He was the nominal overlord of Ireland and - in his own right - King of Cyprus. In ascending the throne, Richard succeeded his father, Henry II. Henry was the son of Maud (Matilda), daughter of Henry I "Beauclerc," youngest son of William the Conqueror. (In other words, Henry II was the great-grandson of William the Conqueror.) Richard's mother, Eleanor, was an important heiress. His sister, Joanna (or Joan) married King William II of Sicily.
Richard earned the nickname "Lion Heart" for his skill as an intrepid military leader and warrior. At the age of sixteen, Richard was already leading his own small army against his father's forces in France. These conflicts with his father, tantamount to a civil war, continued intermittently over the years.
Lionheart spoke French and from 1172 lived for the most part in his mother's Duchy of Aquitaine in the southwest of France. He was over six feet tall and his hair was reddish blonde. Intelligent and headstrong, Richard was known for his short temper. He was supposed to have married Alys (Alice) of France a decade earlier as part of a truce between England and France, but he eventually wed Berengaria of Navarre on Cyprus in 1191.
A consummate warrior, Richard earned his greatest fame on the Third Crusade, following the departure of King Philip II Augustus of France. Though the Second Crusade (undertaken by predominantly French and German armies from 1147 to 1149) had been a humiliating failure, Richard's effort at least had the benefit of partial success. He took Acre (now Akko), but after he failed to conquer Jerusalem Richard reached a truce with Saladin, the Muslim leader, which permitted Christians access to that Holy City.
Philip was not the only king to burn with enmity for Richard. Leopold V, Duke of Austria, was also offended by him, and seized him in 1192 while the English monarch was returning through Europe to England. Richard was thus held under the authority of Henry VI Hohenstaufen, Holy Roman Emperor. Henry released Richard in exchange for a large ransom in 1194, the same year he made his way to Palermo to be crowned King of Sicily; in fact, the ransom defrayed part of the cost of Henry's expensive expedition through Italy to Sicily.
Henry was married to Constance of Hauteville, a daughter of Roger II of Sicily, and fathered Frederick II, who eventually made his own crusade to the Holy Land.
In the meantime, with Richard imprisoned, Philip had confiscated some of his French lands, leading to open war between the two monarchs. Richard was killed by an arrow during the siege of a French castle in 1199, succeeded by his brother, John, of Magna Carta fame. One way or another, Richard spent most of his life at war with somebody.
King Richard's experience in Sicily is just a single interesting episode in the adventurous life of the man who was the epitome of the crusading knight.
Richard and Philip arrived in Sicily en route to Palestine in September 1190 during a chaotic interregnum in Sicily's history. King William II "the Good" of Sicily had died and his illegitimate cousin, Tancred of Lecce, ascended the throne in 1190. The only potential legitimate heir was Constance, wife of the Emperor Henry VI who later imprisoned Richard.
Tancred had made the mistake of imprisoning William's widow, Queen Joanna, knowing full well she was Richard's sister, failing to give her the monetary inheritance due her. The wily Tancred had not reckoned with Lionheart, who gradually made his way by land through Calabria with a small company of knights while his fleet was delayed in southern France.
While in Calabria (part of the Kingdom of Sicily), the Englishman was threatened at Mileto, a Norman capital, by some peasants after attempting to appropriate a falcon (or hawk) which belonged to a local man who obviously didn't know who Richard was. Leaving aside differences in local law (in France and England falconry was the perquisite of the nobility and it eventually became so in Sicily too), the incident provided the pretext for a complaint on the part of Richard. However, his principal protest, already delivered to Tancred by couriers, was far more significant.
Arriving at Messina nine days after Philip, Richard took up residence in quarters outside the walls while Philip was lodged in the luxurious royal palace in the town centre. He demanded that Joanna be freed and provided with her just inheritance. She was released on 28 September, though with only a token sum of money. An angry Lionheart made forceful gestures, occupying Bagnara across the Strait in Calabria and a wealthy Byzantine monastery outside Messina.
Unfortunately, the crusader troops were arrogant toward the local men and rather free with the women. This, followed by the occupation of the monastery, led to a revolt by the locals. Despite the diplomatic protestations of Philip and a Sicilian delegation (including Richard Palmer, bishop of Messina), on 4 October Richard's troops, responding to further taunts, attacked the Messinans, burning and looting large sectors of the city. His force destroyed some harboured ships, preventing the leaders of the riots to flee by sea. The residences of Tancred's emissaries were also destroyed, while some of Richard's overzealous knights carried off some attractive local noblewomen.
Angered at seeing the heraldic banners of Richard and his English knights flying over the Sicilian city, Philip demanded that the French ensigns should also be displayed. He also sent his cousin, the Duke of Burgundy, to Tancred - who at that moment was down the Ionian coast in Catania - warning him of events.
Richard took hostages from among Messina's notables and constructed a timber fortress, Mategrifon (its name loosely translated "curb on the Greeks"), on high ground overlooking the city.
In effect, Richard occupied Messina, something of which Philip did not approve. Relations between the two were already strained; one reason Richard had invited Philip on crusade was because he feared the French king's seizure of his lands during a long absence. For now, Richard's unfinished business with Tancred - for he had designs on part of his sister's inheritance - kept him in Sicily.
A truce was reached on 11 November. With his back against the wall, Tancred signed a treaty with Richard and Philip guaranteeing Joanna's twenty thousand gold ounces and promising a similar sum to Lionheart based on a betrothal. Specifically, the latter payment was contingent on Richard's agreement that when his three year-old nephew and heir, Arthur (son of Richard's brother Geoffrey), came of age, he would wed one of Tancred's daughters.
Richard and Philip agreed to set aside their differences, at least for now, abrogating the betrothal of Alys, Philip's sister, to Lionheart. Richard's mother, Eleanor of Aquitaine, was coming to Sicily with a replacement, Berengaria. A feast at Mategrifon on Christmas Day seemed to seal the improved rapport between the two kings.
During the winter, while their men occupied themselves with tournaments and jousts, Richard and Philip explored the island, making Tancred very obviously aware of the possibility of the large crusader army's ability to seize his entire kingdom.
Richard found himself in Catania with Tancred on 3 March, and the two rode to Taormina to meet Philip. Only rarely in the Middle Ages did three kings of such important realms meet.
In late March, the crusaders began their departure from Messina, setting sail for Acre, much to the relief of Tancred. A more threatening nemesis would arrive in the person of the Holy Roman Emperor, Henry VI, but only after Tancred's untimely death.
Eleanor bid her widowed daughter and future daughter-in-law farewell and returned home. Richard destroyed his wooden castle and left Sicily on 10 April.
Part of the crusading fleet was blown off course during its perilous voyage eastward, and Richard had to trace the ship carrying his sister, Joanna, and fiancée, Berengaria, to Cyprus. Fortunately, the ship carrying the treasure was also saved, but Richard had to free the princesses by force, in the process claiming the island for himself. Conflicts with Philip, Leopold and the Hospitallers continued, endangering the success of the entire expedition. As we've seen, back in Europe both Leopold and Philip later took their revenge on Richard.
Richard Lionheart, who is perhaps more fondly remembered than his royal contemporaries, is buried with other members of his family at Fontevraud Abbey in France.
About the Author: Luigi Mendola has written various articles dealing with medieval topics.