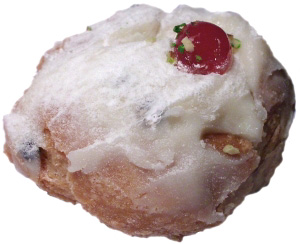 Sfinci (or sfingi, the singular is sfincia) are fried pastry puffs filled with ricotta-based cream similar to that used in making cannoli and cassata.
The Sicilian sfincia is similar to the Neapolitan zeppola, but the pastry is lighter and the cream filling typical of Sicily. It is important that the puffs be fried, not baked, because it is interaction with the boiling oil that makes them hollow. Unlike similar pastries in other parts of Europe, sfinci contain no butter or beef fat.
It is true that certain authors identify sfinci, cassata and cannoli with Arab cuisine as it existed in medieval Sicily. There is not absolute certainty here, but it is beyond doubt that cane sugar was introduced by the Arabs, and without it these confections would not exist today. That the sfincia may have existed – in some form – before the Arab period is implied by the former practice of serving sfinci topped with honey instead of filling them with cream.
Like cassata, sfinci are generally considered a winter item, perhaps because in times past winter and spring were the best seasons for milk production by sheep. The best Sicilian ricotta comes from sheep's milk, and that's what gives the ricotta cream produced in Sicily its distinctive flavour. In principle, the cream is supposed to fill the pastry, but lazy chefs sometimes spoon it onto the surface of the sfincia instead. (In the example photographed here, the sfincia was coated and filled with the cream.)
In southern Italy and Malta, sfinci and zeppoli have come to be associated with Saint Joseph's Day, celebrated on March 19th. In Sicily several towns have Saint Joseph as their patron saint, notably San Giuseppe Iato. Traditionally, Piana degli Albanesi and Monreale were famous for their sfinci and cannoli. Saint Joseph is generally more widely venerated in southern Italy than in the north.
In the Bible's New Testament, Joseph, a carpenter by profession, is the husband of Mary and the foster father of Jesus. When Jesus is referred to as being of the House of David, the genealogy set forth by the evangelist Matthew is that of Joseph as his earthly father. According to Matthew, Joseph's father was a certain Jacob, son of Matthan, and so forth. (Luke mentions his father as being Eli.) Some scholars believe that Joseph had other sons as well, and they generally agree that he died long before his son's crucifixion. Joseph is the patron saint of manual workers and craftsmen.
So many "new" pastries have been introduced in Sicily in recent years that in the wake of this culinary invasion it isn't always easy to find sfinci, even in winter, except in small towns. The best solution is to be in Sicily on Saint Joseph's Day.
About the Author: Roberta Gangi has written numerous articles and one book dealing with Italian cultural and culinary history, and a number of food and wine articles for Best of Sicily Magazine.