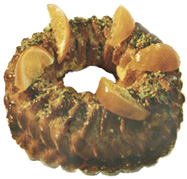 December is buccellato time. In times past, dried fruits signalled the preparation of winter delights like fruit cake and plum pudding. Sicily's version is buccellato, a combination of figs, raisins, dates, nuts (usually almonds) and candied citrus like fruits like citron - all local Sicilian products - baked in a round cookie shell or as small pastries. But buccellato is much more than a simple fruit cake or fig pie.
Like many pastries, buccellato's origins are obscured by the mists of time. Nobody knows exactly when Sicilians began making it. In centuries past, honey was the sweetener, but the Arabs brought the cultivation of sugar cane to Sicily. But every part of Europe has some kind of winter pastry made from dried fruits.
While it is associated with the harvest and cooler months, nowadays some pastry chefs make buccellato all year round. Well, if you can have strawberries in January, why not buccellato in June?
By tradition, buccellato was associated with family milestones. Godparents might give one to the parents of their godchild, or a marriage witness (best man or maid of honour) might give one to the parents of the bride. The point is that buccellato not only represented the good fortune and prosperity of the harvest, it was a very "rich" food in itself.
Today buccellato is most often associated with the Christmas holidays. The more common "national" Italian pastry of the Holiday season - which originated with Lombard and Piedmontese pastry makers "up north" - is panettone, a sweet but very plain, spongy bread cake made industrially and sold in cardboard cartons. There is no such thing as "assembly line" buccellato. It is still made by hand.
There is no single recipe for buccellato. Some versions call for jam, others for the addition of marsala or moscato wine, itself a winter favourite in Sicily. Almost any kind of nut can be used - almonds, hazelnuts, walnuts or even pine nuts. The cake can be frosted or simply glazed and decorated with candied fruits like the one shown here.
One thing is certain. Buccellato is the timeless, quintessential Sicilian holiday cake.
About the Author: Roberta Gangi has written numerous articles and one book dealing with Italian cultural and culinary history, and a number of food and wine articles for Best of Sicily Magazine.