Peter III of Aragon lived from 1239 until 1285 and, with Roger II and Frederick II, is considered one of the greatest Sicilian sovereigns of the Middle Ages. Peter became King Peter I of Sicily in 1282 as the liberating force behind the uprising and revolution known as the Sicilian Vespers.
Peter was the eldest son of James I of Aragon by his second wife Yolanda of Hungary. As an esquire and knight in his father's service, Peter fought against the Moors. He later succeeded to about half his father's realm, with the other half inherited by James, his younger brother. In 1262, he married Constance, daughter (and heiress) of Manfred of Sicily. In Aragon, Peter's reign was marked by the dissension of rebels, mostly greedy aristocrats malcontent with their own lands.
Further afield, he tried to control the Tunisian emirs who sought independence from Aragon. His first expedition arrived in Tunisia in 1280 under the leadership of Count Conrad of Llansa. Two years later, Peter himself landed at Alcoyll leading some fifteen thousand troops in about 140 ships. Here Peter received an embassy sent by the Sicilian barons requesting his assistance in liberating the island from Charles I of Naples (younger brother of King Louis IX of France).
Peter's acceptance based on dynastic right resulted from his wife's descent as the only surviving heir general of the Hohenstaufen rulers of Sicily. This was not universally accepted, but in the thirteenth century legal authority was usually respected when it was backed up by military might, and this Peter had in abundance. In those days, kings were still knights willing to lead armies into battle.
Nevertheless, there were subtle and even covert political aspects to Peter's claim over Sicily. John of Procida, among others, had encouraged the Aragonese conquest of southern Italy ever since the defeats of the last Hohenstaufens at Benevento and Tagliacozzo fifteen years earlier. Peter also enjoyed at least some financial support from the Byzantine Emperor, Michael VIII Palaeologus. The pope, however, was a Frenchman, Simon of Brie (crowned as Pope Martin IV), who supported Charles and the Angevins.
Peter landed at Trapani on 30 August 1282., and was proclaimed king in Palermo on 4 September. As Charles also retained the title "King of Sicily," there were now two nominal "kingdoms of Sicily," hence the origin of the term "Two Sicilies" referring to the Kingdom of Naples (encompassing most of peninsular Italy south of Rome) and the island of Sicily. (Later, the Bourbons of Naples used this as the official name of their kingdom until it was annexed to the "Kingdom of Italy" in the early 1860s.) It bothered Peter little that the French pontiff excommunicated him; in this he was following in the distinguished footsteps of his predecessor, Frederick II.
By February 1283 Peter had occupied Calabria and was threatening shipping as far north as Naples. Clearly, Charles was becoming anxious, and with good reason.
The roles of wives are often overlooked in the annals of history, but Queen Constance was no mere footnote to great events. She joined Peter in Sicily in April 1283, meeting him at Messina with the couple's younger sons, James and Frederick, their daughter Violanta, and John of Procida, by now a trusted chancellor. In fact, Constance was Peter's "regent" in Sicily in name and in a very real sense during his absence. (She is depicted in the ship with Peter in the manuscript page shown here.)
It was at this point that Charles challenged Peter to a duel in a neutral French territory of the English monarch, Edward I. It was agreed that each king would be attended by a hundred knights. In the end, however, Peter and Charles, and their respective entourages, arrived at the designated place at different times of the same day, the first of June, Peter having evaded a planned Angevin ambush en route to Bordeaux. Honour was served --after a fashion-- but the dispute over Sicily continued.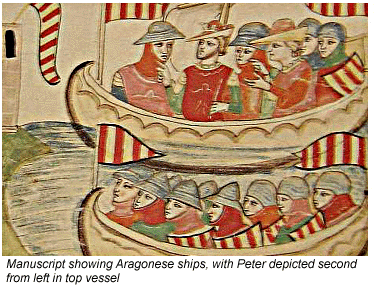 Peter returned to Aragon while his admiral, Roger of Lauria, was wreaking havoc in Neapolitan waters (where for a while he formed an effective blockade) and, to the south, in Arab ones as well. He routed Charles' fleets on the high seas in several key battles and conquered Malta for Aragon. Charles' son, Charles "the Lame" was captured and imprisoned at Cefalù and elsewhere.
Peter survived several trying years as French attempts were made to invade his Aragonese realm, eventually with the collaboration of his disloyal younger brother, James. The French forces were decisively defeated at the Battle of the Col de Panissars. King Philip III of France soon died at Perpignan, James' capital. Charles' days were also numbered. James' lands were confiscated.
Peter died at Vilafranca del Penedès on 2 November 1285, in the same year as his two rivals, Charles (in January) and Philip, and was buried in the Monastery of Santes Creus.
Peter left Aragon to his eldest son, Alfonso III, and Sicily to his second son, James II (who thus became James I of Sicily). Peter's third son, Frederick, succeeding James, became Regent of Sicily and later its king. But the Angevins did not rest. During the following decades and even centuries Sicily remained a contested dominion.
In his Divine Comedy, Dante Alighieri envisions Peter "singing in accord" with his rival, Charles, outside the gates of Purgatory. Not a very flattering description, but even Dante was not perfect. History has been more generous than the poet to Peter of Aragon.
About the Author: Palermo native Vincenzo Salerno has written biographies of several famous Sicilians, including Frederick II and Giuseppe di Lampedusa.