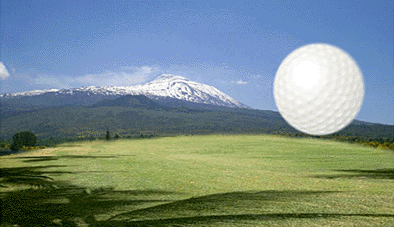 Golf in Sicily. Yes! Sicily has five beautiful eighteen-hole courses just waiting for you. Admittedly, it does seem strange that a place with chronic water shortages --and little efficiency in solving that problem-- would have any golf courses at all. (Links to the golf course websites follow below.)
Now I have to confess that I don't play as much golf as I used to --though in my heyday I played Augusta, Saint Andrews, Oak Hill and a few courses in Florida, California, England, Japan and even the Emirates. Most of the time I'm content with what there is near my home here in New York state. Like most recreational golfers, I think of the sport as leisure, even therapy. That said, I have a few friends among the pros --"rank and file" PGA members, not Tiger Woods, mind you-- and I play a respectable game with the same handicap I had seven or eight years ago. So I'd say I'm at least a "respectable" amateur golfer who enjoys a challenge once in a while, and I've aged fairly well. Or so I'm told. Let's put it this way: I'm old enough to consider Arnold Palmer my model.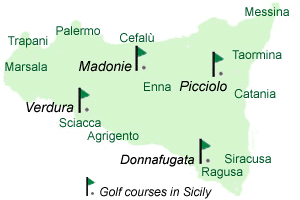 It so happens that my maternal grandfather was from Sicily, so when I visited his home town (Enna) last year, I decided to try a few of the island's courses. This was a couples thing. My friend, Jim, and his wife made the trip with us. At the time there were two courses, one near Etna and the other near Cefalù, and my wife gave me carte blanche to play a few rounds as long as Jim and I let her and Jim's wife go off shopping. (Incidentally, that was easier around Taormina than much busier Palermo, but that's another story.)
These were both exceptionally good courses, well-maintained and moderately difficult. Any seasoned golfer will tell you he feels most comfortable playing with his own clubs, as often as not state-of-the-art titanium things inspired by an article in Golf Digest or a professional endorsement. Obviously, Jim and I had to rent clubs, but they were okay. Leaving aside frankly boring details of how challenging each hole was (reading that kind of stuff can drive me crazy), and what we each shot, I'd just like to make a few points.
Nobody plans on ending up in the rough, and the scenery is supposed to be secondary. I'd certainly played courses that featured the occasional palm tree, but this was the first time I encountered olive trees on a course. That added a nice local flavor, a touch of character, which is really part of playing golf in different places in the twenty-first century. And it seems that a few of these olive trees were pretty old, maybe planted over a century ago, so your local course's "millennial oak" isn't the only arboreal landmark with bragging rights.
It's my understanding that, partly because of the water scarcity problem and partly due to political considerations, serious golf in Sicily got off to a slow start. It seems that the Sicilians themselves have been slow to embrace the sport, but that may change as more courses open. No, I'm not one of those players who believes that no place is complete without a golf course. I just think it's nice to have options when you travel.
For a bit of local history, both Palermo and Taormina had golf courses back in the 1920s. This historical nugget surprised me. Palermo's course was at Mondello, a seaside "suburb" on the edge of the woodsy Favorita Park dominated by Mount Pellegrino. I'm told that the Favorita was part of a royal hunting ground reserved for the king around 1800. Taormina owes its golfing legacy to the Brits who made it a tourist spot and a port of call for visiting royalty. Today houses, villas and roads mark the spots where these two historical courses once stood.
Another interesting detail is that women used to play these courses. I was shown an old black and white photograph of a lady teeing off at the Mondello course about two decades before Italian women could vote. I'll leave the social implications to those more informed about such things than me, but back in those days few American women beyond New England ever set foot on a golf course, and many country clubs officially excluded women from the links. Well, that was almost a century ago. It was a different world, before my time and, I think it's safe to say, yours.
The Madonie Mountains are a great setting, but Mount Etna was probably the more striking of the two. This was something out of the ordinary. Hawaii and Japan may offer something vaguely similar, but in my experience this couldn't be beat. The day we played the sky was clear and the volcano was smoking. I almost expected it to erupt before we played the fifth hole. We were joking about how the eighteenth hole might actually be Etna's crater, and how we'd have to play through a lava flow on the fairway to get there!
I would like to add that both (Picciolo and Madonie) courses have good, four-star lodging and are easy to get to. The Forte Group recently opened a third such resort, Verdura, near Sciacca in south-western Sicily, which has two eighteen-hole courses and a nine hole, all designed by Kyle Phillips; their landscaping, set upon rolling hills along the shore, is different from the others. That's one of the appealing aspects of Sicily's courses: each is genuinely unique.
I was invited to play Verdura just before it opened to the public. It was a superlative experience.
Then there's Donnafugata, near Ragusa in southeastern Sicily. Like Verdura, a PGA course - this one designed by Gary Player.
My advice: If you're an avid golfer looking for something different, think about Sicily.
Links to the links:
Verdura near Sciacca and Agrigento
Le Madonie near Cefalù (recently closed, may re-open)
Picciolo (and Palmerston resort) near Etna
Donnafugata near Ragusa.
About the Author: Bob Wilson is a retired travel agent and non-professional golf fanatic.