Magazine Index
Best of Sicily
Arts & Culture
Fashion
Food & Wine
History & Society
About Us
Travel Faqs
Contact
Map of Sicily
Editor's Note
This is part a series dealing with specific aspects of Sicily's travel and tourism industry. Other articles in the series are linked from the Travel Agent Page.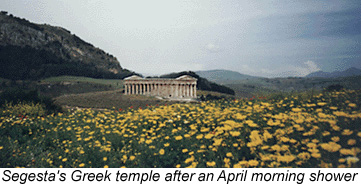 My company, based in New York, offers tours of Sicily. My parents were both born in Sicily and I love the place. That seems simple enough. There's plenty of useful information about Sicily on this site and in places like TripAdvisor.Com, and while independent travel is feasible there are often times when hiring a guide is a good idea, especially if you have only a day or two in a certain place and you want to see - and actually understand - a lot of it. It's often the perfect solution for a small group, such as two couples travelling together; you don't have to be a group of thirty to hire a guide. In my experience, the best guides of Palermo, Siracusa and Taormina are difficult, though not impossible, to find on the net, sometimes through local travel agencies or tour operating companies, or even their own sites - even if I generally avoid sites published by guide associations and the like because they provide simple lists but little else, and in Italy they're sometimes bureaucratic or "politicized."
Sure, you'd think that as a travel agent I'd know enough about travel services to avoid the most prosaic pitfalls. I usually do, but personnel present a particular challenge compared to lodging, dining, transportation and other more "tangible" elements of your visit. Most of Sicily's licensed tour guides are technically competent in that they are knowledgeable of history and culture, and many (though in my experience only a slim majority) are actually engaging and willing to enhance your experience. But after many years in the field I have come to believe that tour guides, like every other element of your visit, should be selected with extreme care. (I even proposed that the editors of this site publish a page listing guides who they have carefully reviewed and consider worth recommending.) It should be mentioned that in Italy becoming a licensed tour guide requires passing a fairly rigorous examination; here guiding is a profession comparable to teaching university-level history or anthropology. A Palermo-based guide I know has actually conducted (original) scholarly research comparable to post-graduate or doctoral work; before a tour a lady in one of my groups had read her work on this site and was thrilled to learn that she would be our guide.
Tour Guides Defined: In Italy, a tour guide is a trained, university-educated, trilingual, licensed professional authorized to lecture at any historical (or archeological) site, museum or Catholic church in a specific region, such as Sicily. The Italian term for licensed guide is guida abilitata. If in doubt, you should inquire using that phrase to avoid misunderstandings. Most licensed tour guides are freelance professionals. Most of the people you see based at certain historical sites (at the entrances, ticket offices or just wandering around), and who sometimes take visitors around the site explaining things, perhaps in broken English, are not licensed tour guides qualified by examination but monolingual "site guides" or other personnel hired at low wages to work specifically at those places. In Sicily a few hundred are employees of the Fondazione Federico II, an outsource paid by the public agencies which administer these sites. To be fair, some are quite knowledgeable. The problem, from my point of view, is that few are really professional and even fewer speak English. That's one more reason to visit more important historical sites with your own guide for your group - so you won't have to rely on what is provided there. I've even seen independent visitors in Monreale Abbey or in Palermo's Palatine Chapel come over to listen to my group's guide for information. The "tour leaders" on the big red sightseeing buses (like the ones in Palermo) are not licensed tour guides. It should go without saying that the boys driving tourists around town in three-wheel vehicles (such as the one shown here) are not tour guides!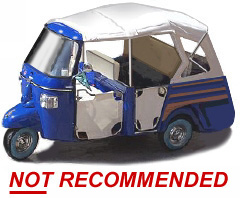 Legal Issues: Recent implementation of European Union free-trade laws is changing the guide profession because in the future a guide licensed in London or Berlin will be able to work in his/her profession in Palermo, Siracusa or Agrigento. It's all part of "de-regulating" the professions in Europe, and part of the general trend toward globalization. This, of course, has impacted the careers of some guides in Sicily, who in the current economic climate (and the resulting decline in tourism) may already be finding things difficult. Large tour operators are cancelling tours and certain cruise lines are cancelling Mediterranean cruises having Sicilian ports of call.
Of course, there are guides and guides, and the best ones are always in high demand. The crux of the service problem is that Italy is fundamentally a quasi-socialist "welfare state" in painful transition to something healthier. For now, labor and management are still at odds (witness Italy's frequent strikes). Many professionals, including some tour guides, think that a credential or paper certification is in itself sufficient for them to work, and many expect the customers to seek them out, sans the need for advertising. The idea of quality of service is sometimes lost in this bizarre mix, yet for those of us in the travel industry it is the essential ingredient. Simply put, who wants to work with incompetent or rude people? Worse yet, why be forced into working with them if there are other choices?
In Italy there are additional complexities because a legal distinction is drawn between tour guides, whose work is essentially cultural, historical and localized, and tour escorts (group leaders) whose work is most typically dedicated primarily, though not exclusively, to accompanying a group and dealing with transportation and other logistics. (Some tour leaders accompany groups to Italy from New York, London or elsewhere, while others meet them in Italy; most of the tour guides in Italy are Italian.) In some ways this compartmentalization is inefficient, but it seems to be slowly changing with new legislation. Let's just say that the whole situation, with personalities thrown into the equation, can be like walking through a mine field. Pity the travel agent who has to plan a tour in Sicily thinking it'll be logistically similar to what she has organized for Germany, Russia, India or Japan! As far as guides are concerned, it's high time that some kind of selection were made based on quality, instead of having some Sicily-based tour operator make your choice for you.
Recent changes in law (in 2012) have established that, strictly speaking, Sicily's licensed tour guides may work anyplace in Sicily. In practice, most are experts in one region of the island or another. One might say that some are specialized in western Sicily, others in eastern Sicily.
Keep this in mind: Most tour operators in Sicily outsource guides, and that's fine so long as the ones they select meet your standards; otherwise choose your own. (We're getting to that part.)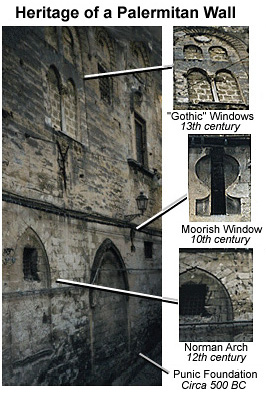 Here's an example of what I mean when I talk about historical knowledge, insight and attention to detail. The wall shown here, located on a narrow street in central Palermo, is not unlike many in Sicilian cities. What makes it exceptional are the Arab windows. Granted that this isn't one of the city's major sites, a guide we work with always makes it a point to show my groups this "hidden" detail near the Quattro Canti's more important attractions; some guides barely know it exists or just don't think it's worth pointing out. I could probably dedicate an entire volume to "secret" sights and sites of historical interest in Palermo alone - little-known medieval churches (the city has two dozen, more than almost any other European city), walls bearing Greek, Arabic and Hebrew inscriptions, and more.
In my field we often have to select either tour guides or group leaders. Obviously, there are some who my office would never dream of employing, and neither should you. Americans, of course, are accustomed to choices and unafraid to make them, but I believe that this applies to most people regardless of where they live. My point is that certain aspects of "tourism" are too frequently overlooked in the rush to book the best hotels and schedule visits to the most interesting sights. It seems to me that the person who chooses a local guide, even for a small group for one day (for example a shore excursion during a cruise) could benefit from applying the same rules that we follow who work full-time in the travel industry. It's almost comical that I might have a problem with a tour guide that I'd never have with Alitalia flight personnel, who are highly trained in customer care, but I guess that's just part of the world we live in.
Unless you've worked in the travel/hospitality industry, it may seem to you that historical knowledge alone makes a good guide, but if you think about it, your vacation experience entails much more. Think of it this way. An airline pilot doesn't just fly the plane, important as his technical competence is, he reassures the passengers too. When you eat in a restaurant it's not just the food that is important, but the place where it is served. The same principle applies to every aspect of travel: transportation, lodging, dining, potential emergency services, and of course things like tour guide services. When it comes to dealing with clients, most of Sicily's tour guides have had virtually no training at all, and it shows. Even in Sicily, some tour operators are beginning to rebel against such a mentality.
I would like to reiterate that the great majority of Italy's licensed tour guides, and certainly most of Sicily's, are highly competent. I don't wish to discourage your hiring one just because of a few bad apples. The field seems to be in a phase of evolution, so let's focus on the positive.
Rates and Fees: Right now (this page was updated in June 2012), the standard guide rates are just over 200 euros per 7-hour day and slightly more than 100 euros for a half-day of 3 or 4 hours. A tour escort spending 24-hour days with a group over the course of a week would normally be paid as least this much. By law, a tour guide or tour leader cannot lead a group of more than fifty participants. Most of us are in business to make a profit, so it helps to keep costs down when possible. There are various professional associations for guides but membership in these is not obligatory, and there is no profession-specific union for tour guides. There is no official rate established by law; the deregulation thing again. Legally speaking, the only important thing is that you hire a guide licensed to work in Sicily. Practically speaking, we've seen that being a competent guide is about much more than a legal credential.
Hiring Your Guide: Find out which languages the guide speaks. If you actually speak to him/her you'll be able to get some idea about competence in your language. Unfortunately, English ability is sometimes mediocre. I wouldn't presume that Sicilian-born guides all speak foreign languages as well as native speakers, but I must say that those who speak English (or French or Russian) as their mother tongue are true gems because they also understand the culture, interests and needs of Americans, Brits, Germans, Japanese, Russians, etc. Try, either via email correspondence or a telephone conversation, to get a feel for what there is to see. A good guide will try to determine what you want to see and do. For example, if your Sicilian visit has a culinary theme you'll want to see the street markets of Palermo or Catania. While I don't wish to dwell on essentially subjective matters such as personalities, it is important that you feel comfortable with the guide you eventually hire.
There are enough resources for travel agents on this site for you to organize a group vist and tour of Sicily without the need for a tour operator's "esoteric" services. At the very least, our suggestions will make it possible for you to choose those services astutely. Remember to enjoy yourself. Sicily is worth it.
About the Author: Andrea (Andrew) Russo has worked on the 'American' side of the Sicilian tourism industry for almost twenty years. This previously-published article appears here by permission.