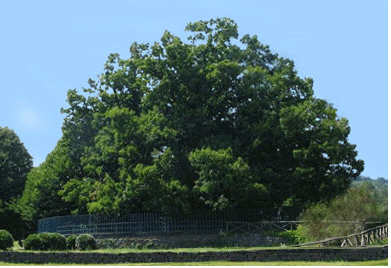 A few kilometers from the town of Sant'Alfio, on the lower slopes of Mount Etna, is the Hundred Horse Chestnut Tree ("Castagno dei Cento Cavalli"), believed to be the oldest tree in Sicily and perhaps the oldest of Europe.
Not every part of it is that old. Parts of the trunk have been burned and at one point a house was built into the giant tree. Yet it survives. Until recently, few local residents appreciated the tree's legacy, but it has been dated scientifically.
One would not think that the question of a tree's antiquity could engender adamant rivalry but, as in the cases of many "world records," eclectic opinions abound, colored by the motivation of "locals" to promote "their" tree as a source of local pride while perhaps generating tourism profits.
In the manner of an international athletic competition with participants fiercely vying for first place, the claim to Europe's oldest surviving tree is made by several towns, with olive trees leading the list. The age of these trees cannot be dated very reliably beyond two thousand years, but among those usually mentioned are the Fortingall Yew in Perthshire (Scotland), the Pedras del Rei olive in Portugal and the Pano Vouves olive in Greece. All are thought to be slightly over two thousand years old.
While it is not likely that any of these trees are much over two thousand years old, their histories are fascinating, with the chestnut's being the longest and perhaps most accurate. Conifers lead the list of the world's oldest trees, with a conifer root system in Sweden dated to the end of the last ice age and several American trees estimated to be almost five millennia old.
In this land of legend combined with the occasional fact, the name "Hundred Horses" owes its name to the traditional story that during a sudden rainstorm the young Joan (Giovanna) of Aragon, Queen of Naples, travelling with a mounted suite of around a hundred retainers and knights, sought shelter under the huge tree.
Joan of Aragon (1454 Barcelona - 1517 Naples), daughter of King John II of Aragon (1397-1479), was the second wife of King Ferdinand I ("Ferrante") of Naples and Sicily (1423-1494), who she wed in 1476. The royal dynasty of Aragon had ruled Sicily since the War of the Vespers in 1282, and by now the "Italian" branch also ruled (from Naples) the southern third of the Italian peninsula. King Ferrante's reign was characterised by, among other things, high taxes. In addition to descendants by his two wives, Ferrante had a number of surviving children by two mistresses.
As chestnut trees, conifers and olive trees normally grow to be several centuries old, their occasionally exceptional longevity shouldn't surprise us. They are nature's testaments to history.
About the Author: Maria Mazzaro writes about nature and environmental topics.