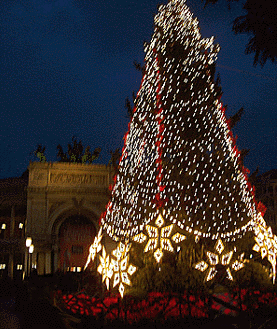 If you're looking for a place where the warm Mediterranean spirit of the Nativity still exists, and where Christmas has not become quite so commercialized as it has in some countries, Sicily is still a good choice. It's a great place to spend the holidays.
We last described Christmas in Sicily a few years ago. Here I'd like to mention a few ideas for where to stay and what to do.
Staying in Sicily this time of year, you have three basic choices: resort, country or city.
Resorts: The island's best known resort is Taormina, set on a mountain overlooking the Ionian coast and easily reached from Catania Airport. It will be cool, but there's rarely snow in Taormina, though distant Etna will probably be capped with the season's first snows. The atmosphere is special, and far less crowded than during most of the year. This means that some hotels and restaurants are usually closed in the Winter, but there are still plenty available. An excursion, or even skiing, on Mount Etna is always an adventure. Ortygia, the historic district of seaside Siracusa, is a pleasant alternative to Taormina.
Apropos seasonal services, the current recession has brought about subtle changes, and this year (2012) some of Sicily's better hotels will close their doors for the Winter – but in most cases in January after the holidays.
Guest Farms: There's nothing like a stay in the country. Italians use the word "agriturismo" to describe guest farms – working farms where you can pass a few days or even a week. You'll have to rent a car to get to most of these places, but it's worth the trip. To find a farm and arrange your stay, our agriturismo page is a good place to begin, or try a web search with the phrase "agriturismo sicilia."
In the City: Staying in a hotel isn't the only urban option. Palermo and Catania have some charming bed and breakfasts, and we especially recommend those in the old historical districts. The ambience in these cities is more "local" when the residents are in the Christmas spirit and there are few tourists. If you plan on staying in a hotel, ask about "low season" rates. The Holidays, of course, are in the middle of the concert and opera season, so find out what Palermo's Teatro Massimo and Catania's Bellini have to offer. Both have websites indicated on our links page.
Sightseeing: Most of the historical sights and archaeological sites are open all year. What's great about December and January is that there are virtually no lines. No 50-seat tour buses transporting cruise ship passengers or low-budget tourists to the places you want to see. Call me a snob, but as I see it their absence is a good thing for those who want to enjoy a leisurely visit to these fascinating places.
Shopping: For last-minute gift shopping – to spoil others or yourself – Palermo has Sicily's largest "traditional" department store, Rinascente in Via Roma near Piazza San Domenico, while Via Libertà is lined with the boutiques of Prada, Hermes, Louis Vuitton, Gucci and others. Every city has something; Catania's main shopping street is Via Etnea.
Planning: Last minute arrangements are not always easy. In other words, plan ahead if you can. The Holidays are a peak period for flights, so it's best to book at least a few weeks in advance. Remember that on the Holidays themselves many restaurants are closed, and on New Year's Eve the cenone, a huge, multi-course dinner, is traditional. It's best to reserve early for the cenone, which can run to a hundred euros per person. The legal holidays of the season are Christmas Day (25 December), Saint Stephen's Day (26 December), New Year's Day (1 January) and the Epiphany (6 January). Expect weather in Sicily in late December to be more-or-less similar to what you would expect during mid-September in London or New York, though usually with less rain. Check out our weather page for current and seasonal conditions.
About the Author: Roberto Paglia has written numerous articles for this publication and others relating to social topics.