Magazine Index
Best of Sicily
Arts & Culture
Fashion
Food & Wine
History & Society
About Us
Travel Faqs
Contact
Map of Sicily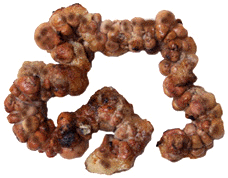 Finding myself with some friends in central Palermo one Saturday evening around eight, it was suggested that we have something to eat. Being in Piazza San Domenico, nestled between the Vucceria Market and (behind the post office and archeological museum across Via Roma) Piazza Olivella, with its kebab restaurants, kebabs seemed the natural choice --especially as we all like them. The Italian interpretation of this dish is turkey souvlaki served over a bed of radicchio, carrots, lettuce and onions with a slice of cucumber, covered with yogurt sauce. Traditionally, though, souvlaki is made from lamb rather than turkey. Somebody mentioned this, to which somebody else replied that for "real" lamb we should have stigghiola, which was being grilled in the outdoor market nearby. In fact, we could smell the aroma of stigghiola roasting. The smoke was filling the air.
Most of the company, not being from Palermo, had heard of stigghiola but never actually tasted it. Hardly anybody makes it anymore. It's one of those things you roast at cook-outs, along with sausage and beef. Stigghiola is best when grilled to a crisp over a fire (the photo here shows semi-cooked stigghiola), but what is it?
The roasted intestines of sheep or goat. It's that simple. Stigghiola is cooked on a skewer, perhaps braided with a strand of green onion leaf (scallion), lightly seasoned with salt, and eaten in bite-size chunks. Like spleen sandwiches (historically called "vastedda"), it's far tastier than it sounds, though perhaps not the kind of thing you would want to eat every day. There are, of course, other recipes. This one just happens to be the most common.
Offal (organ meats) is rarely eaten nowadays, so one wonders where this food originated. A popular theory holds that stigghiola, like chitlins or chitterlings (a similar dish once popular in the American South), was originally a food of the poor. That may be so, though in Sicily it has become an almost "stylish" cultural symbol of culinary tradition in recent years. The truth is that until the twentieth century offal was more popular generally, not only in Italy but in many countries.
It has been suggested that stigghiola, like spleen meat, was popular among Sicily's medieval Jewish and Muslim populations, which did not consume pork. Indeed, there is a dearth of pork recipes in Sicilian cuisine, so this is quite possible. Choto (in Uruguay) and parrillada (Argentina) may share the same Jewish and Moorish history, rooted in medieval Spain.
Tradition says that nobody in his right mind would choose sausage (stuffed calf or pork intestines) over the meatier stigghiola, which, like steak, has a very "masculine" image. In fact, I didn't notice any other women (except those in our group) eating stigghiola on the evening that we tried it, but that didn't affect its flavor. It was delicious.
About the Author: Roberta Gangi has written numerous articles and one book dealing with Italian cultural and culinary history, and a number of food and wine articles for Best of Sicily Magazine.