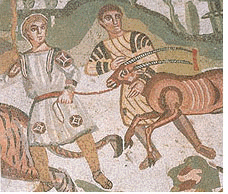 Mosaic art probably originated in the Middle East some time before 2000 BC (BCE). The Egyptians made use of it, particularly in floor designs. In Sicily mosaic was introduced by the Greeks but developed to its greatest potential by the Romans and, in the Middle Ages, by the Byzantine Greeks. In its simplest form, mosaic is a form of representational or geometric imagery created by precise placement of coloured tesserae ("tiles"). Though mosaics are usually flat, they can also decorate objects such as vases or the rounded corners of walls.
Most Sicilian mosaics fall into one of two historical categories, each representing a specific movement or style.
As very few Greek examples remain, Sicily's ancient mosaic is usually Roman. The most important example in Sicily is to be seen in the pavements of the Roman Villa at Piazza Armerina (shown here). It is usually decorative, or purely artistic, but rarely "religious" except for occasional mythological references.
The medieval form of mosaic seen in Sicily is Byzantine. The most prominent examples are seen in Palermo's Norman Palace and in Monreale Cathedral, though Taormina and other localities also boast fine mosaic art. This art is usually religious, often iconographic. Even the mosaic of King Roger II in Palermo's Martorana church resembles an icon of the same period.
Mosaic is a very painstaking technique for rendering figures, requiring a well-developed knowledge of color, dimensionalism and light (tone and shade). Creation of even the smallest, simplest image takes much time and patience. However, when pure substances are used, the result is more durable than most painting techniques. Oil paintings are beautiful but canvas ages and colours can darken or fade. Tempera is somewhat more permanent, as is fresco, but few methods of rendering in colour can approach mosaic's brilliance over centuries.
Mosaic, which makes use of very small opaque or transluscent tiles, is distinguished from inlay (intarsia), which uses larger pieces of opaque stone to create patterns. Sicily's most expansive display of inlay is the church of Casa Professa in Palermo. The perception of mosaic as an art of the past is deceptive. Because it is so durable, mosaic is well-suited to masonry and tile walls, such as those in underground (subway) systems. It would be fair to say that mosaic art has never gone out of style, and perhaps it never will.
About the Author: Antonella Gallo, who teaches art in Rome, has written numerous articles on arts and artists for Best of Sicily.