Magazine Index
Best of Sicily
Arts & Culture
Fashion
Food & Wine
History & Society
About Us
Travel Faqs
Contact
Map of Sicily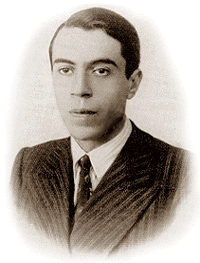 Ettore Majorana was born a century ago (in August 1906) in Catania in an era when nuclear physics, still in its historical infancy, was gradually being recognised as a distinct science. In earlier times, the greatest physicists, including Sicily's Stanislao Cannizzaro, were first chemists, and this changed only in the twentieth century.
Ettore came from an intellectual and scientific family. His father, Fabio (1875-1934), was an engineer, and later administrator, in the telegraph and telephone industries. Ettore's uncle, Quirino Majorana (1871-1957), was an experimental physicist at the University of Bologna. Ettore Majorana was something of a prodigy. His first original work, published in 1928, dealt with atomic spectroscopy. Other early work the structure and behavior of atoms, Majorana studied with Werner Heisenberg, and some of his most importantwork expanded on that of the latter. He was one of the first physicists to publish theories regarding neutrino masses, work considered to be nearly a century before its time. His most recent published paper (much has been published after his death), in 1937, detailed a symmetrical theory on the relationship and corresponding mass of protons and neutrons, and energies that gave stability to atoms of electrons and positrons. This was particularly important in early research into nuclear fission and chain reactions --principles governing the function of nuclear power reactors and also the first atomic bombs.
Majorana's name is often associated with two distinguished elder Italian colleagues, Enrico Fermi and Emilio Segré. Both of whom eventually became Nobel laureates. Majorana served a professorship at the University of Naples. He later was appointed to a physics post at the University of Palermo, but died before actually assuming it. Had he lived longer, Majorana may have become a decisive force in the field of particle physics.
His accomplishments were praised by Fermi in glowing terms: "There are many categories of scientists, people of second and third rank, who do their best, but do not go very far. There are also people of first-class rank, who make great discoveries, fundamental to the development of science. But then there are the geniuses, like Galileo and Newton. Well, Ettore Majorana was one of them."
Ettore Majorana disappeared from a ship during a routine trip from Palermo to Naples in March 1938 and was presumed dead. A theory of suicide has always been advanced, but the politics of the Fascist and Nazi years leading up to the Second World War suggest homicide. As some of Majorana's work might have facilitated development of an atomic bomb, a project with which Heisenberg was eventually involved for Nazi Germany, there exists a strong possibility that he was murdered, probably by Nazi agents.
About the Author: Palermo native Vincenzo Salerno has written biographies of several famous Sicilians, including Frederick II and Giuseppe di Lampedusa.