Magazine
Best of Sicily
Arts & Culture
Fashion
Food & Wine
History & Culture
About Us
Travel Faqs
Contact
Map of Sicily

Personal Travel in Sicily
Shouldn't your tailor-made vacation be arranged by your own travel expert in Sicily? Sicily Concierge will plan your trip from arrival to departure, whether it's a one-day excursion to timeless Segesta or a one-week itinerary around Sicily. You can expect real travel services from real travel agents.

Start dreaming, and visit Sicily Concierge. Castles in the clouds are just the beginning.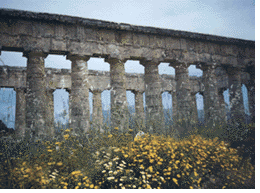 Nobody knows precisely who they were, or even what to call them – Elami, Elimi, Elymians – but by the time they were Hellenized, probably around 500 BC (BCE), their city of Segesta, in western Sicily, was one of the most important in Magna Graecia. As Sicelots (Greek Sicilians) with a native heritage, forging occasional alliances with Athens against Carthage, and vice versa, the Segestans were a formidable force to reckon with. As fate would have it, Segesta's is the best-preserved Greek temple in the world, while the hilltop site of the ancient city, inhabited into the Middle Ages, boasts the crumbling ruins of a Norman castle and a small church, along with a classical amphitheatre.
Built around 430 BC, the Doric temple is the focal point of Segesta, its grandeur all the more glorious in Spring, when wild flowers blossom in the surrounding fields. One easily imagines ancient (but young) Segestan girls gathering poppies, snapdragons and daisies on the graceful slopes. By mid June, the field grasses and flowering shrubs (by then called "weeds") are already amber and brown, not from lack of rain but from timeless habit. It is a metamorphosis deigned by the gods. The greyish limestone of this most singular of ancient cities assumes, in a subtle way, the color of its surroundings – from green to gold highlights.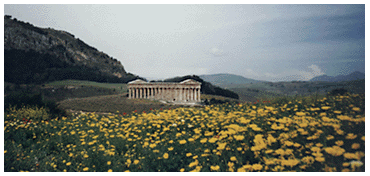 At a diameter of around sixty-two meters, the amphitheatre is not very large but still impressive. It offers a high vantage point from which to view the valleys.
Medieval chronicles all but ignore Segesta, and to ancient ones she is little more than a footnote to epic conflicts. In places like Segesta, certain things seem to have changed little in many centuries. Paestum has grassy fields, Agrigento almond groves, and Segesta its flowers. Tranquil testaments to time and nature.
What became of the Segestans? Nearby Calatafimi was essentially an Arab city of mosques and veiled women. Still, it is probable that the medieval Segestans abandoned their city for nearby towns such as Erice (Eryx). The ancient sculpture of Segesta leaves us with an idealized impression of a healthy, attractive people.
For the Segestans, the magical change of seasons was a divine act of gods. For us, it's something to be experienced anew each year.
About the Author: Archeologist Daniele Dionisio is an employee of the European Commission who presently divides his time between Calatafimi and Atlanta (USA).