Magazine
Best of Sicily
Arts & Culture
Fashion
Food & Wine
History & Culture
About Us
Travel Faqs
Contact
Map of Sicily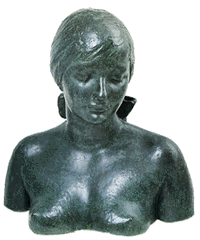 He spent most of his life outside his native Sicily, as an "expatriate" in the Italian North. But Francesco Messina was identified, for most of his long professional career, as a Sicilian realist sculptor. It was not always a fashionable label, but it was what defined the talent and the man. Truth be told, he was little known outside Italy, though his commissioned works can be seen in a number of countries, and he sometimes exhibited internationally. Francesco Messina was born in Linguaglossa, in the province of Catania, in 1900. He spent most of his youth in Genoa. As a young artist, he was an excellent draftsman, and found an early affinity for the human form. He soon began to sculpt in clay (terra cotta) and other media. In the 1930s, his sculpture was exhibited throughout Europe in group shows of Italian artists. In 1932, he moved to Milan, and was soon appointed a tenured professor at that city's Brera Art Academy. In 1935, he completed the Christopher Columbus Monument for the city of Chiavari.
His Fascism (he was a longtime party member) was sufficient to bring about a brief post-war suspension of his tenure as director of the Brera Academy. The artist's association with the Fascist Party may have been a simple question of opportunism, since it facilitated his receiving public appointments and public commissions. The art itself rarely bore an overtly political message, but, following the Second World War, sometimes dealt with themes like war and violence. The statement was never overbearing.
He preferred bronze. Ever a realist, Messina never deviated much from the natural form, except in slight stylizations. Punctuated by the occasional exhibit, his professional life consisted of creating and teaching. In

1958, he executed the bust of Giacomo Puccini for La Scala and, in 1963, the statue of Pius XII in Saint Peter's Basilica. Among his admirers were Jean Cocteau and Salvatore Quasimodo, but in an age of abstract movements Messina's works found favor among many who felt alienated by the new wave of expressionist sculpture. His own expression was often subtle. Only up close does one realize that Paola (1967), shown here, is shedding a tear.
He did not shy away from private commissions or smaller works, and created many for his own pleasure or for eventual sale by galleries or his own workshop. Never a showman, Messina rarely sought public attention, though the media loved him. In one of his last interviews, he observed that art should not be viewed as a status symbol. He seemed to resent this trend, which he believed had become more pronounced in recent decades.
Words often fall short of describing art or artists, but it's obvious that Messina was a classicist. This wasn't always "politically correct," but it was usually popular. That's not to say that interpretation was never present in his work. Indeed, it is especially demanding to work within realism's rigid parameters, much moreso to actually evolve within them, as Messina did. His was art without apologies.
Francesco Messina visited Sicily over the years, but resided in Milan even in his nineties. He died there in 1995. His work is being shown in a retrospective exhibit at the La Murzia Gallery in Palermo through June 17th.
About the Author: Artist Antonella Gallo teaches art in Rome.