Magazine Index
Best of Sicily
Arts & Culture
Fashion
Food & Wine
History & Society
About Us
Travel Faqs
Contact
Map of Sicily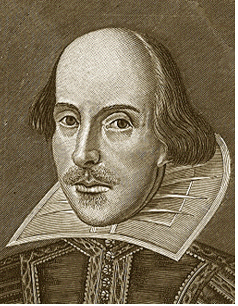 Did William Shakespeare ever visit Sicily? Not as far as we know, and that's the point of a scholarly debate that has surfaced in recent years. According to a theory gaining popular acceptance, William Shakespeare may have been a ghost writer or author-in-name for an English aristocrat who knew Italy exceptionally well, but whose social rank did not permit him to claim the authorship for popular plays. In other words, in an age devoid of published travel guides, a gentleman of common social station (Shakespeare when his plays were first published and performed) would have lacked the keen knowledge of Italy reflected in Shakespeare's plays. Edward de Vere, seventeenth Earl of Oxford (1550-1604), is the most likely candidate. He knew Italy well, and in The Winter's Tale, one of Shakespeare's last works (publicly known from around 1610), set in Sicily, the author (whoever it is) appears to be describing the ancient Greek temple at Segesta.
The theory was foreshadowed in a way by the unexpected discovery in 1940 that under the famous Ashbourne portrait of Shakespeare was a previously "missing" portrait of de Vere, sparking curiosity about a possible connection between the two men.
Born in 1564 to John Shakespeare (or Shake-speare), an alderman in Stratford-upon-Avon, William Shakespeare authored numerous works before his death in 1616. He probably attended a local grammar school but did not pursue specialised education afterward. In 1582, while still quite young, he wed Anne Hathaway, who bore him three children --the first, Susanna, in 1583. One cannot escape the fact of the paucity of knowledge about Shakespeare and the research necessary for such an author to develop stories accurately depicting a country he apparently never visited. No personal papers or notes are known which would shed light on this. While many volumes from de Vere's personal library have been discovered, none of Shakespeare's are known, even though such a man would probably own a certain number of books.
Six of Shakespeare's works are set in Italy but, as we've said, an extensive stay here has never been assumed to be part of his life. One would imagine him making such travels before his marriage, not during it. Yet his plays --works such as Romeo and Juliet and The Merchant of Venice-- indicate a sound knowledge not only of Italy but of Italian customs, as well as Italian aristocratic life. Edward de Vere, of course, knew Italy well, and as a worldly aristocratic was intimately familiar with the Italian nobility. As prosperous as John Shakespeare and his son became, their knowledge of this elite, refined world would have been somewhat limited by the strictures of social class.
Could Shakespeare have gained a secondhand knowledge of Italy, perhaps through friendship with somebody like de Vere? This is quite possible, but de Vere's actual authorship is suggested by the very subtle details present in certain works. A number of scholars, Richard Roe prominent among them, believe that the background for Shakespeare's "Italianate" works can be traced to Edward de Vere's trips to France and Italy in 1575 and 1576. Published doubts about Shakespeare's authorship surfaced in the nineteenth century, and J. Thomas Looney's theory identifying Edward de Vere as the author behind him first appeared in print in 1920. More recently, evidence such as notes by de Vere (particularly those in his copy of the Bible) have been considered in the debate. Certain details of the versatile aristocrat's personal life are traced in some of Shakespeare's plays. (Space does not permit a detailed examination of this material here, and this article is not intended as an in-depth study.)
One (of many) interesting points is that in his works Shakespeare only rarely mentions "tourist" attractions. This implies that only detailed, local knowledge could have been his source. Even certain puns have meanings which have only rarely been identified. In The Taming of the Shrew, the remark about Pisa's "grave citizens" probably refers not to the Pisans' dour demeanor (as was previously presumed) but to the actual graves in a large cemetery established near the city's cathedral in the Middle Ages. Upon careful investigation in Italy, it has been observed, in response to longstanding criticisms, that Shakespeare's descriptions of Italian locales are indeed accurate, with no errors.
Dr. Roe has spent much time in Italy determining precise distances based on Shakespeare's descriptions of fictional characters' journeys, including those in Sicily. In The Winter's Tale, Cleomenes is probably describing Segesta (rather than Delphi) when he says, in the present tense: "Fertile the isle, the temple much surpassing the common praise it bears."
Though little-known outside Shakespearean circles, the debate is hardly an esoteric issue. In recent years the Washington-based Folger Shakespeare Library, a point of reference for Shakespearean studies in North America, has adopted a neutral policy on the authorship question, which they previously (at least officially) ignored altogether. Yet the library's founder, Henry Clay Folger, thought enough of the matter to purchase Edward de Vere's Bible in 1925. Challenging accepted, traditional notions of authorship provokes controversy, but the day may come when historians regard both de Vere and Shakespeare (whoever he was) in a different light.
More importantly, their authorship can not diminish the Shakespearean works' significance. In that sense, Shakespeare will always be Shakespeare.
About the Author: Freelance journalist Daniela Paglia formerly taught history and Italian studies in a high school in Catania. She has previously written about Joan of England.