Magazine Index
Best of Sicily
Arts & Culture
Fashion
Food & Wine
History & Society
About Us
Travel Faqs
Contact
Map of Sicily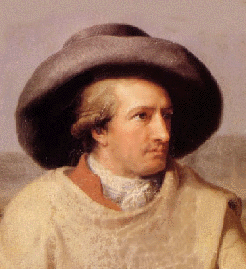 "To have seen Italy without having seen Sicily is not to have seen Italy at all, for Sicily is the clue to everything."
Born in 1749, Johann Wolfgang von Goethe was a giant of German literature. His travels in Italy were undertaken from 1786 until 1788, while the author was still fairly young. He married in 1806 and died in 1832. Faust, perhaps his best-known work, was completed only shortly before his death. Goethe travelled through much of Italy, spending March, April and May 1787 in Sicily, and his memoir was published (in German) in 1817 as Italian Journey. Goethe was viewed as a complicated man, a quality reflected in his work. Italian Journey is more than a mere travel book; it is an autobiographical account of an intellectual's experiences. In the case of southern Italy, it reflects conditions then existent in the Kingdom of the Two Sicilies. (The portrait shown here represents Goethe during the time of his Italian trip, as rendered by Wilhelm Tischbein, who was with him in Naples.) The focus of Goethe's Italian stay was the south, with much time spent in and around Naples and Rome, though he did visit Venice and other northern cities. This was logical, as Naples was then the largest, wealthiest and most populous of the Italian cities.
It has been suggested that Goethe chose this point in his life --though not yet married he was nearing forty and apparently without active romantic interests-- to make a long-desired trip to Italy because, following early success in his career, he required new inspiration for future works. He looked to the Classical (ancient) and the Renaissance as a form of "therapy" for a slow stage in his development. It is a tribute to his intellectual curiosity and psychological awareness that he considered this important and useful. He first sought the expatriate German communities of Rome and Naples, artistic and intellectual contemporaries slightly younger than himself. From there, he ventured into the deep south.
Goethe arrived in Sicily in late March 1787 with his friend C.H. Kniep, leaving to return to Naples on 13 May of the same year. His insights and observations are interesting --and astutely accurate. He describes Palermo as being quite similar to Naples architecturally, though dirtier. The fountain in Piazza Pretoria is described, as are other landmarks, such as Mount Pellegrino, the Botanical Gardens and various churches. He celebrates Easter in Palermo and dines with the viceroy. Visiting Bagheria, he marvels at the fantastic figures in the garden of the Prince of Palagonia. He visits Monreale and the nearby monastery of San Martino. Even the colorful "Count" Cagliostro figures in Goethe's book.
He ventures across Sicily, from Ustica and Marsala to Catania and Taormina, stopping at Alcamo, Segesta, Castelvetrano, Caltanissetta, Agrigento, Messina and Enna. He also climbs Mount Etna. Except for visits to some less important towns, the itinerary is remarkably similar to what one would follow today. Goethe admired classical history, art and literature, perhaps believing these to be directly connected to the arts of his day. What is certain is that he appreciated Sicily as an essential element of "Italy" (a nation state established only in the 1860s).
His travels brought him into contact with common people as well as aristocrats, allowing him to observe the eccentricities of both classes. Goethe's writings regarding landscapes, flora and fauna, cuisine and mineralogy, though not exhaustive, are interesting. Even his description of a mid-April downpour in Palermo s not without a certain charm. It is important, however, to remember that Goethe himself spoke little Italian. In that sense, he was not much different from many other non-Italian visitors to Sicily, though he was hardly a "tourist" as that word is commonly understood today. This trip was not precisely the "grand tour" of continental Europe undertaken by English gentlemen; it was rather more specialised and perhaps more intimate.
Goethe's work is one of the earliest modern Italian travelogues, and his subtle comparisons of various Italian cities are unique. The book as it exists today consists of his diary and various accounts and correspondence added later. The 1962 English translation by Auden and Mayer remains the most faithful to the original German.
About the Author: Freelance journalist Daniela Paglia formerly taught history and Italian studies in a high school in Catania. She has previously written about Joan of England.