Magazine Index
Best of Sicily
Arts & Culture
Fashion
Food & Wine
History & Society
About Us
Travel Faqs
Contact
Map of Sicily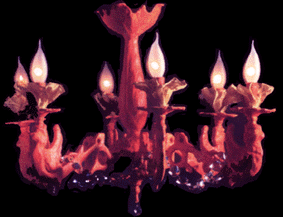 Iolanda Stoppi is a Baroque woman who lives in a Baroque palazzo in what is largely a Baroque city. So just what, exactly, is the Baroque? Simply described, it was the artistic and architectural movement, spawned by the Renaissance, that became popular from around 1550 to 1700, characterised by ornate ornamentation. Rococo, a more recent movement of French origin, bears some similarity to Baroque.
In Stoppi's hands, traditional objects such as lamps, furniture and even clothes become new works of art. Using gesso (a form of plaster), she creates forms, sometimes modifying existing ones, in the decorative tradition. The colors are enchanting: pale pinks, oranges and yellows. And yes, white.
What makes these works special is that they can find a place even in a modern setting. They're classical yet simple. A number of artists around the world create similar objects, but Stoppi is one of the few Sicilians to do so, and she follows in the footsteps of the masters of the Sicilian Baroque. Sicily's Baroque movement was similar to Spain's, with distinct Italianate elements. The Baroque evolved into different forms in Turin, Milan, Rome, Bologna, Naples, Paris, Saint Petersburg, Madrid, Vienna and, of course, Palermo. In its more eclectic moments, the Baroque embraced certain Neo-Classical motifs.
Some of Stoppi's creations are utilitarian, such as the lamp shown here. Others are purely artistic, existing for their own sake yet enhancing their environment.
And so we come to Iolanda herself, a Sicilian woman as perfectly at home in elegant historical costumes as in a pair of faded jeans. Her creations are a reflection of herself, rooted in two distinct centuries.
About the Author: Antonella Gallo, who teaches art in Rome, has written numerous articles on arts and artists for Best of Sicily.