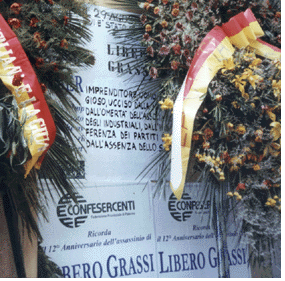 He seemed an unlikely hero --a balding, graying, middle aged Sicilian businessman whose company, employing about a hundred people, manufactured stylish lingerie. Libero Grassi was a good father, a good husband and, to all who knew him, a good friend. He was also a hard working entrepreneur with a strong sense of ethics and duty. In Palermo's difficult economy, his business was exceptionally successful.
Then came the demands. First by telephone, then through intermediaries. At first, the language of the requests, tinged by the heavy Palermitan accent, was marginally civilised. But the callers all demanded the same thing: protection money. The Sicilians call it pizzo, a term which vaguely alludes to the practice of wetting the beak of a small bird. Today it refers to the money paid to the Mafia to let you live.
The concept of paying criminals to refrain from destroying your business and your life is rooted in nineteenth century customs. The Mafia has existed as a social force only since the latter years of the eighteenth century. But even today it is estimated that at least fifty percent of Palermo's storefront businesses and industries pay the infamous pizzo, invisible to the naked eye of those who live in a wider world. The phenomenon is less prevalent, but not unknown, in Catania on the other side of Sicily, but it does not exist in Milan, where there's corruption and organised crime but no local "Mafia" per se.
It doesn't matter that a few Italians, and even an eccentric handful of their descendants abroad (including prominent "Italian-Americans" who talk about "defamation"), tell you that the Mafia doesn't really exist. On the early morning of 29 August 1991, a "non-existent" organisation of criminals gunned down Libero Grassi in cold blood on an otherwise quiet street between Palermo's Via Libertà and Piazza Unità d'Italia. His offence? Refusing to pay the pizzo.
Because Grassi had made his personal battle a public issue, writing to the newspapers and recounting his experience to the police --yet refusing police protection-- the homicide made headlines as far away as Milan. What was equally disturbing was the attitude of lawmakers who had refused to formulate laws making not only the collection, but the payment, of the pizzo illegal. The laws eventually established arrived too late for Libero Grassi. His son, Davide, and his widow, Pina, continued to work hard but now they had another duty --to make known Libero's experience and ensure that such things would become part of Sicily's past.
More than ten years later, the kind of Mafia that killed Libero Grassi, Giovanni Falcone and others is all but invisible to most Palermitans, and certainly to most visitors. The pizzo still exists, and so does the Mafia, which is evolving into an increasingly political and white collar organisation. Corruption and rackets still pay. Yet the winds of change are in the air.
But Libero Grassi has not been forgotten. A new station of Palermo's metro (underground) line and a technical school have been named in his honour. Recently a Palermo fashion show televised nationally was dedicated to his memory. He didn't consider himself exceptional. It was his defiance that made him different. And his uncommon courage.
About the Author: Palermo native Vincenzo Salerno has written biographies of several famous Sicilians, including Frederick II and Giuseppe di Lampedusa.