Magazine Index
Best of Sicily
Arts & Culture
Fashion
Food & Wine
History & Society
About Us
Travel Faqs
Contact
Map of Sicily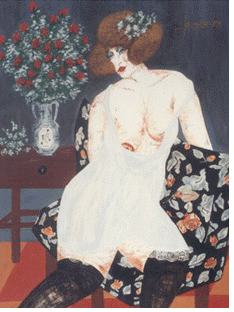 Life as art. Though he remains a permanent fixture of the Sicilian art scene, Palermo-based Pietro Sciortino is perhaps under-appreciated beyond his own city despite having exhibited throughout Italy and abroad. Truth be told, he may not even be too appreciated in his native Palermo. His themes reflect a passionate attachment, perhaps even spiritual or mystical, to Palermo. Each series approaches a unique topic in a singular manner --Pinocchio in Sicily, The Cappuchin monastery's catacombs, local brothels. The last is particularly fascinating because, like the catacombs, it represents a glinpse into the past. Brothels have been illegal in Italy for decades, though prostitution itself actually is not against the law, so the prostitutes depicted in these paintings --obviously caricatures-- are based as much on impressions as on any reality. Here prostitution is seen at its most unappealing.
Sicily is full of artists --good, bad and in-between. Sciortino depicts, and perhaps symbolizes, the island's culture better than most of his painterly brethren, capturing realities that most artists barely even know exist. His images are part of the fabric, the very essence, of Sicilian life. They're not lifeless figures, statement-less landscapes or stillest life but life itself, eloquent in its eternal imperfection but poetic in its colours. Is this unadultered simplicity? Or is it a mature complexity beyond perception?
Both, perhaps. Or neither. His technique and style are far from unconventional, but they're not exactly conformist, either. Perspectives are skewed, sometimes forgotten, while dramatic foreshortening attracts the viewer's attention. Displayed in his gallery (on Via Bara all'Olivella in central Palermo), these paintings seem the timeless stuff of dreams, history and legend. Sicily, and her Sicilians, on canvas and wood. For what is a place without its people?
About the Author: Antonella Gallo, who teaches art in Rome, has written numerous articles on arts and artists for Best of Sicily.