Magazine
Best of Sicily
Arts & Culture
Fashion
Food & Wine
History & Culture
About Us
Travel Faqs
Contact
Map of Sicily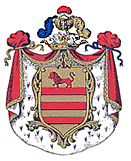 Its architecture makes it an exemplary model of the Palermitan Baroque style, and Palazzo Asmundo, an aristocratic home occasionally open to the public for exhibits and other events, represents an important era. Bearing the resplendent Asmundo coat of arms (shown here) over its portal, the palace stands impressively on the Cassaro, the present Corso Vittorio Emanuele, facing the Cathedral.
In its past incarnations it was a hotel and restaurant. The present owners, the Martorana family, have restored it to something of its former glory. The impressive palazzo was built around 1615. In this period, the Sicilian nobility gradually began its migration from country to town, and in 1567 the Cassaro was widened on the orders of the Viceroy Garcia de Toledo, and renamed Via Toledo. The construction of Palazzo Asmundo coincided with the building of a number of noble palaces in the vicinity, among them Palazzo Filangeri di Cutò.
It was in 1767 that Giuseppe Asmundo Paternò, Marquis of Sessa, enlarged the existing structure, adding the magnificent facade visible today. It extended into the street beyond those of most of the nearby buildings, causing gossip that the Marquis encouraged the narrowing of this important avenue to accomodate his home's new dimensions. The family's guests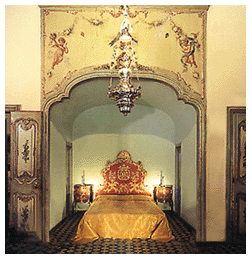 included royalty, notably Princess Maria Cristina of the Two Sicilies, daughter of King Francesco I, with her husband Charles of Savoy, Duke of Genoa.
Today, the structure, though much changed, retains much of its original flavour, characterized by vast chambers and a regal ambience. One ascends the red marble staircase to the "noble floor," which opens with the Concert Chamber, its ceiling painted with the fresco "Allegory of Time," Beyond a door begins the series of salons typical of Sicilian palaces: the Pink Room, the Fireplace Room, the Cathedral Room, the Alcove Room (its bedchamber is shown here) and others.
Gaston Vuillier, the French painter who visited Sicily in 1893, stayed at Palazzo Asmundo when it was still a hotel. In a diary of the trip, he wrote, "I open the window and enter the balcony, which encircles the entire floor, and I am enchanted."
About the Author: Francesco Lo Piccolo is one of Sicily's foremost medieval historians and an expert in heraldry, the study of coats of arms and aristocratic genealogy. This distinguished scholar is the author of numerous books and articles.