Magazine Index
Best of Sicily
Arts & Culture
Fashion
Food & Wine
History & Society
About Us
Travel Faqs
Contact
Map of Sicily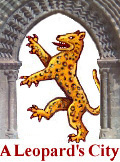 The Leopard Tour: Discover the places that inspired Giuseppe Tomasi di Lampedusa's classic novel, The Leopard (Il Gattopardo), in a personalised walking tour of Palermo as he saw it.
Impulsive and pensive, he was the epitome of non-conformity. The enigmatic, reclusive Prince Giuseppe Tomasi di Lampedusa is one of Sicily's most celebrated novelists, and the only one to author a novel (The Leopard) that topped the bestseller lists internationally. Published shortly after Tomasi's death in 1957, this singular novel, considered a Sicilian Gone With the Wind, is the story of a Sicilian aristocratic family during Italy's unification period (1860-1871). Tomasi's own family was the model for the fictional Salina clan of the novel, and the intentional parallels drawn between the Allied invasions and the fall of the Savoys, on one hand, and the invasion by Garibaldi's Piedmontese forces and the fall of the Bourbons, on the other, is striking. Indeed, The Leopard was part of a (then embryonic) post-war trend among Italian intellectuals to examine, if not challenge, the very premise of Italian political unification, setting the stage for Italy's new federalism, a very concrete reality today. It was this perspective, more than the story itself, which defined The Leopard as a classic work of Italian (and international) literature, for other books had been written about the Sicilian nobility. Still, to characterise the story of the declining Salinas in the 1860s as a mere allegory for the decline of the Italian monarchy and socio-political establishment in the 1940s is to overlook the novella's universal appeal. It deals with the Church, sweeping social change and, of course, love.
Born in 1896 to the Prince of Lampedusa, Giulio Tomasi, and Beatrice Mastrogiovanni Tasca Filangeri di Cutò, Giuseppe was, in effect, an only child, his elder sister having died very young. His mother was, by most accounts, mildly eccentric in that she was more cosmopolitan, more cultivated, more open-minded, than most Sicilian aristocrats, and Giuseppe seems to have inherited her sophistication. His education was a classical one. He read Latin and Greek, spoke German and French and, most exceptionally for an Italian of his era, eventually studied English. He then attended law school briefly until the outbreak of the First World War. He was commissioned as an officer and took part in some of the bloodiest battles against the Austrians. Taken prisoner, he escaped from a prisoner of war camp in Hungary and continued his military service until being discharged 1920. Though he did not desert, Tomasi clearly had serious misgivings about the war he was fighting, and saw it as an exercise in futility. Some of his statements and letters imply pacifist views. He spent the next few years wandering throughout northern Italy and Europe. While visiting his uncle, a diplomat, in London, he met the Latvian aristocrat Alexandra Wolff Stomersee, then a student of psychology. The couple wed at Riga in the Orthodox Church in 1932 but did not always live together. Until Latvia's re-annexation to the Soviet Union following the war, Giuseppe spent summers there with his wife.
As much as Tomasi cherished his sojourns in the Baltic region, his deepest passion was reserved for the westward isle where he and Alexandra had met. He adored England's country estates - the woods, the pheasants, the deer - but also London. England made a distinct impression on Tomasi, and his time there afforded him a rare opportunity to cultivate his love of English culture and literature. It also provided him a convenient respite from the increasingly stifling environment of Fascist Italy. His first-hand, aristocratic, intellectual knowledge of Britain was beyond the experience of most Italians, and resented (certainly envied if not feared) by many of those who were now seizing the reins of power. However, the Fascist regime's fanatical suspicion of Italy's few English-speaking intellectuals (and its prohibition of the study of English) does not seem to have complicated Tomasi's life back in Palermo, probably because he was gone much of the time and anyway was not a professor or publisher; he kept a low profile and rarely made his views known. Politic he may have been, but Giuseppe Tomasi di Lampedusa was no politician.
When Giuseppe's father died in 1934, the young heir succeeded to the familial titles. He was now Prince of Lampedusa, an island the family had not actually possessed for generations. He did, however own other estates elsewhere in Sicily. In 1940 the prince was drafted, but the Royal Army discharged him in 1942, supposedly (and officially) because he administered agricultural activities deemed useful to the nation but possibly for his "suspect" foreign connections. Unlike Luigi Pirandello, Giuseppe Tomasi viewed Fascism cynically, though he was rarely vocal about this opinion or any other. He passed these years near the coastal town of Capo d'Orlando with his wife, mother and cousins. The family's palace in Palermo was severely damaged, virtually destroyed, by Allied bombs in Spring 1943, and Giuseppe's mother died in 1946. After a war which changed the political face of Italy, Giuseppe and his wife purchased an old family property in Palermo. English literary criticism was still one of his interests, and he frequently met with a group of young intellectuals to discuss these subjects. Several of his critical essays were published.
He worked for a few years as a director of the Red Cross in Sicily. The Allied Military Government respected him as an anti-Fascist and a competent administrator.
Tomasi spent the next decade writing The Leopard and other works. David Gilmour's biography, though almost certainly inaccurate in some details, captures something of Tomasi's life rarely revealed in the numerous articles written about him. A few years ago, a touching motion picture, Il Manoscritto del Principe ("The Prince's Manuscript"), filmed in Palermo and Rome, was released which depicts this phase in the life of Giuseppe di Lampedusa, his young literary circle, and his favourite nephew (actually younger cousin) and heir, Gioacchino Lanza.
Except for his remarkable novel, Tomasi's only completed work of fiction is The Professor and the Mermaid (also published as The Siren and Lighea), a short story which delves into the world of myth and fantasy. Its protagonist, a professorial descendant of the prince described in The Leopard, is probably based closely on Giuseppe himself, while "the Leopard" of the novel (Prince Fabrizio of Salina) is a composite character based on several Tomasi ancestors, particularly one who lived in the nineteenth century. The novel is not autobiographical and the protagonist's words are not those of Tomasi himself. The Blind Kittens, sequel to The Leopard, exists only as a single chapter. These short pieces were first published in 1961 with the prince's reminiscences, "Places of My Infancy." Luchino Visconti's motion picture of The Leopard, starring Burt Lancaster and the young Claudia Cardinale, was released in 1963. The movie is, if anything, too faithful to the text of the novel, but it was a critical success. Rarely has the work of so "unprolific" an author garnered so much international attention.
His integrity and creativity beyond doubt, the author himself fell into that nebulous realm defined by the esoteric convergence of philosophy, politics, great literature and intellectual courage. Whether Giuseppe Tomasi was a true pacifist is debated; perhaps even he did not know for certain. His psyche was, at the very least, complex, even to his psychologist wife. Nevertheless, his defiance of Italian social conformity was very real if often subtle. In the 1930s, few Italians were prepared to risk Tomasi's "unconventional" choices - questioning the underpinnings of Italy's Risorgimento (unification) movement, choosing (perhaps creating) a philosophical path independent of either Fascism or Communism, becoming an Anglophile when it was unfashionable (even dangerous) to do so, marrying a brilliant woman in a "foreign" Church rather than the "Italian" Roman Catholic one. Worldly, ecumenical, cosmopolitan, Giuseppe Tomasi was an aristocratic twentieth-century personification of Sicily's medieval multicultural heritage. Was he an eccentric scholar reincarnated from the enlightened court of Frederick II, or simply a displaced academic fifty years ahead of his time?
When it was published in Italy, The Leopard was condemned by Communists as reactionary and conservative, and by the Catholic Church as anti-clerical. These were actually parochial and ephemeral criticisms little noted outside Tomasi's native country, and for the most part they were thoroughly dissipated by 1970. The Prince of Lampedusa accurately described the decline of the "old" Sicilian aristocracy and its evolution into a vulgar, superficial parody of its former self, alongside the emergence of equally vulgar, materialistic "new classes." Despite a seemingly conservative point of view, it would be wrong to identify Giuseppe Tomasi as a snob. More than anything else, he was a passionate observer, and The Leopard, more than any other Sicilian novel ever published, has come to define Sicily. In death Tomasi di Lampedusa, the eccentric anti-hero, has become a sage.
The Leopard and David Gilmour's biography of its author can be ordered on the books page.
About the Author: Michele Parisi, who presently resides in Rome, has written for various magazines and newspapers in Italy, France and the United Kingdom.