Most of the island, including the South-East with 4-star lodging
Itinerary • Summary & Accommodations • Start Dates • To Reserve • Options, Transfers, Extra Nights • Conditions & Legal • FAQs • PDF

Reservation info, hotel details and departure dates follow the itinerary and summary. Visit our general tours page for faqs about our company and our tours. Important purchase conditions follow on this page.
Around Sicily in 9 days and 8 nights. Enjoy the timeless history, culture, cuisine and sunshine of Sicily in a tour (very) conveniently planned with just three hotel check-ins and a cross-island itinerary - instead of a lengthy "circuit" around the island with the same place as starting and ending point. Your delightful itinerary crosses Sicily from Palermo to Siracusa and Ragusa to Taormina, meaning that your arrival will be at Palermo airport with a departure from Catania. (The difference between this itinerary and our other popular tours is more time to discover the splendid, Baroque southeastern cities of Ragusa and Noto.) Specialised local guides in Palermo, Agrigento and Siracusa. Departures from March through November are guaranteed with as few as two participants. Group size is 2 to 16. Compare this tour to others you'll find advertised and you'll see that it places a special emphasis on culture and history in Sicily's very diverse regions.
Itinerary:
(Please note: Summary follows. All breakfasts are included, other meals included are indicated in bold face. Locality and site names link to detailed descriptions on Best of Sicily.)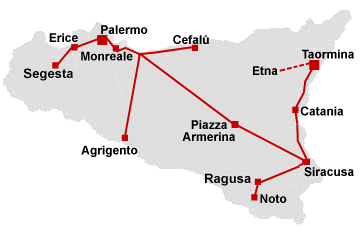 Saturday: Arrival at Palermo. Meet your tour escort for a welcome dinner in a local restaurant. Overnight at hotel in Palermo. (Information on airport transfers is provided near the end of this page.)
Sunday: Following breakfast, we'll visit the Norman abbey of Monreale, overlooking the city, famous for its timeless Byzantine mosaics and Norman-Arab cloister. Then we'll discover medieval Palermo with a visit to Palermo's medieval cathedral and Martorana Church, the Baroque Quattro Canti, Piazza Pretoria and one of the city's fascinating street markets. In mid-afternoon, following time at leisure for lunch, we'll travel along the coast to visit seaside Cefalù, famous for its medieval cathedral. Evening at leisure. Overnight in Palermo.
Monday: Following breakfast and check-out, we embark upon a trip through Sicily's rugged interior. First, we visit Agrigento to visit its timeless Greek temples. Following a light lunch in a local trattoria, we'll return to Palermo.
Tuesday: Following breakfast we'll venture into Sicily's wine region. We'll stop at hilltop Erice, famous for its Phoenician heritage, medieval atmosphere and delicious pastries. Next we'll travel to Trapani along the coast below, known for its salt pans (marshes) and wind mills. Following a light lunch at an olive farm, we'll visit hilltop Segesta's timeless Greek temple and amphitheatre, and then enjoy a wine tasting. Overnight in Palermo.
Wednesday: Breakfast is followed by check-out and our departure eastward to the Ionian city of Siracusa. En route, we'll stop at the Piazza Armerina archeological site. This ancient Roman villa boasts the most extensive mosaic pavements of any private residence in the Mediterranean world. we'll have lunch in a local trattoria, then proceed to Siracusa. Overnight in Siracusa.
Thursday: Breakfast followed by a delightful excursion to two of Sicily's most Baroque cities, Noto and then Ragusa, where we'll tour the medieval and baroque districts and sample the scacce stuffed breads, a local specialty. This afternoon, we'll visit an Arab-era watermill museum built around a historic home and flour mill outside town. Evening at leisure and overnight in Siracusa.
Friday: Following breakfast and check-out, we'll explore Ortygia and the Syracuse archeological park. The city, one of the most important of the ancient Greek world, was home to Archimedes and Plato, a place where Paul of Tarsus preached. Then we travel up the coast to Taormina. Afternoon and evening at leisure, overnight in Taormina.
Saturday: Breakfast followed by an entire day at leisure in charming Taormina. The atmosphere of this hilltop town, full of winding streets and enticing shops and restaurtants, makes it a great place to spend a day indulging personal tastes and unexpected curiosities. Optional excursion up the slopes toward the summit of Mount Etna, Sicily's highest mountain and Europe's largest active volcano. Another option is a cooking class. (See optional excursions below.) Overnight at Taormina.
Sunday: Check-out following breakfast. Independent transfer to Catania Airport. (We can arrange this service upon request.)
Summary & Accommodation (lodging):
Prices All Year:
€1749.00 per person double occupancy (i.e. two persons per room), €2069.00 single occupancy, payable by bank wire transfer or major credit card. See our general tours page for purchase conditions and cancellation policies.
Includes: Eight (8) nights accommodation in 4-star superior hotels listed here or the equivalent substitution (to be confirmed 20 days before beginning of your tour but usually Excelsior or Principe Villafranca in Palermo, Villa Diodoro (with sea view) in Taormina, Maniace in Siracusa (which you can view here), transportation (coach or minibus) and tour escort for the entire trip, with all breakfasts, 1 dinner and 3 light lunches (beverages not included), 1 wine tasting, 1 snack, all taxes except certain city taxes.
Does not include: Beverages, tips (gratuities) to escorts (or guides/drivers), airfare, meals not indicated, entrance fees at archeological/historical sites (total approx. €50), trip insurance, airport transfers (may be purchased separately), porterage and baggage handling, options (excursions), anything not mentioned under "Includes" above, city tax (see below).
Accommodation: Double room with private bathroom. Single room with supplement ("single occupancy").
Guide/Escort Language: English.
Group Size: From 2 to 16 participants.
City Tax: Following the example of Rome, Paris and New York, a few Sicilian cities have begun to tax hotel stays. The law prohibits billing or collection of the "city tax" by travel agents, so you may be required to pay this tax of €2 - €4 directly to the hotel at check-out.
Dates offered: Departures from Palermo as indicated here.
Tours begin on Saturday at Palermo:
23 March, 6 April, 27 April, 11 May, 1 June, 22 June, 7 September, 21 September, 12 October, 26 October, 16 November.
Note major Italian legal holidays in 2013: 1 January, 6 January, 31 March (Easter), 1 April (Easter Monday), 25 April (Liberation Day), 1 May, 2 June, 15 August, 1 November, 8 December, 25 December, 26 December.
Reservations:
To reserve contact us at tours@bestofsicily.com indicating "Red Sicily" in the subject line, or by phone at +39 091 626 9685, or fax +39 091 380 9900. From the United States or Canada you may also contact us by Skype at 718-473-0803. (Please remember that there's a six-hour time difference between Central European Time here in Italy and American Eastern Time in Toronto and New York.) Or... you can pay online with a credit card (under "Notes" please indicate the tour, start date and number of participants). A 250 euro minimum deposit is required when you reserve.
This tour is organized by Chat & Tour (Tradizione Turismo), Via Gen. Sirtori 25, 90145 Palermo, Italy. Visit our general tours page for faqs and purchase conditions regarding this and other tours.
Optional Excursions:
This tour includes just about everything while allowing for free time and offering a few exceptional choices, yet without structuring the itinerary as a mere "frame" for a series of options and extra excursions. This tour has these options on Thursday, with a choice of an excursion to the Mount Etna region and a cooking class in Taormina. This permits you to choose which one, if any, is best for you. (Or you might simply choose to relax, go to the beach or go shopping!) If you decide to participate in an excursion or cooking class, please mention this when you reserve your tour. Each presumes a minimum of two participants.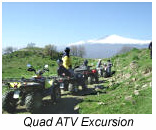 1) Etna Jeep Excursion & Country Lunch: You'll be taken by jeep to the higher altitude of the volcano slopes, including Fontana Peak the 'extinct' craters of the Sartorius Peaks and the lava flow from the 2002 eruption. Then you'll enjoy a light lunch at a farmhouse offering typical Sicilian cuisine. Returning to Taormina, the partially off-road drive will pass the Alcantara Gorge. €140.00 per person. We also offer a series of excursions on ATV 4x4 Quad Bikes (shown here) on the slopes of Etna and in the scenic Alcantara Valley nearby.
2) Market Gourmet Cooking Class: This is the epitome of food preparation from start to finish. Independent transfer to a local restaurant (near your hotel) where you'll be met by chefs Antonio Orlando and Maria. At an open-air market you'll select the fresh ingredients of your culinary creation - which (accompanied by the perfect wine) you'll enjoy as your lunch, followed by dessert. Preparing and tasting this piece of Sicily is an experience you'll never forget. The class runs from 9 AM to 1 PM (lunch time). €90.00 per person (available 15 March to 15 November).
Airport Transfers & Extra Nights:
Please mention these when you reserve your tour.
Airport Transfer: While there are buses, trains and taxis into Palermo and Taormina from Palermo's and Catania's airports, we can arrange a personalized transfer at €70.00 per person (based on a minimum of two passengers) from 8 AM to 7 PM, or €90.00 per person from 7:30 PM to 7:30 AM. Travel time in each case is approximately 40 minutes.
Pre Night in Palermo: A night (or more) immediately before the tour begins. Double occupancy (double or twin) €80.00 per person, Single occupancy €110.00. Whenever possible, lodging will be in the same hotel used during the tour.
Post Night in Taormina: A night (or more) immediately following the tour. Double occupancy (double or twin) €110.00 per person, Single occupancy €155.00. Lower rates during low season. Whenever possible, lodging will be in the same hotel used during the tour.
Conditions and Terms for 2013 Tours
Client will be advised of specific hotels to be used in his/her tour 20 (twenty) days before the tour's start date. Payment may be effected by bank wire transfer or major credit card. Prices are indicated in euros and valid through 31 December 2013. In the event of currency conversion to euros, the conversion rate shall be that of the day of payment; in the event of several payments for a single service the conversion rate may vary slightly based on the day's current exchange rate. All services are to be prepaid at least sixty days prior to the beginning of the tour ("start date" herein also referred to as the "departure"), with an initial payment or deposit (of at least 20% of the total cost) required to reserve a place in the tour, and in any event the balance or full price made payable within 60 (sixty) days of departure. In the event of cancellation by the client, the following portion of the total tour price will be claimed by the agency: €100.00 fixed fee 60+ days prior to departure, 25% 45-59 days before departure, 50% 15-44 days before departure, 80% 8-14 days before departure, 100% within 7 (seven) days of departure. At its discretion, the tour operator agency may waive such claims.
If purchased directly from the Italian tour operator (i.e. Tradizione Turismo by Chat & Tour Srl) via this website, service shall be governed by the laws of the Italian Republic and the European Union. Local laws may also apply for any tour purchased through a travel agent outside Italy. It is the responsibility of each participant to be in possession of the necessary travel document, such as a valid passport. Basic services are insured in compliance with Italian law. Certain fees indicated (i.e. costs cited which are outside the actual tour price), particularly admission fees at archeological sites, are understood to be beyond the tour operator agency's control and therefore subject to change without notice.
Hotel ratings are those established by the Italian travel commission and may differ from those indicated in privately-published travel guide books or websites. Tours begin in Palermo or Taormina, as indicated, on the dates specified. Unless the tour is purchased by a travel agent representing us, billing is processed through the tour operator, based here in Palermo, Italy (i.e. Chat & Tour's Tradizione Turismo). In the event that the tour operator agency effects cancellation of a tour at any time prior to departure, its sole responsibility and liability is limited to refunding the client the amount it has received in payment for the tour up to that date. The tour operator reserves the right to cancel or reschedule any tour departure in accordance with operating requirements or circumstances beyond its control (force majeure).
LEGAL STUFF: Tradizione Turismo by Chat & Tour, Via Generale Sirtori 25, 90145 - Palermo, Italy. Full Travel Agency Licence Number: 996/VII/Tur-Sicily • IATA Tids 96 27583 0 • VAT (Partita IVA): IT04943140824 • ASTA Member Number: 900166379 • Site Member: ID 9310610.

Print this page
©2012 Best of Sicily, Palermo, Italy. Unauthorized use is illegal.
This page is a paid advertisement.