Magazine
Best of Sicily
Arts & Culture
Fashion
Food & Wine
History & Culture
About Us
Travel Faqs
Contact
Map of Sicily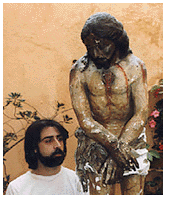 His interest began as a natural passion for all old things. He sought the opportunity to revive them, bringing a renewed luster to a frame, a statue, a piece of furniture or any antique. And using his own ability, his own hands, to do it. It's not as simple as it sounds. Few outside this sector know that, in reality, it takes years of practical day-to-day experience in the field to become a master restorer.
One person who has dedicated a great part of his life to the art of restoring antique furniture, and particularly Baroque frames, is Pietro Boscia, Palermitan, thirty-five years old. The young master works with lacquer, gold leaf and sculptural elements. Pietro's career has taken many turns, and he has been called upon as a consultant and instructor by schools and art institutes. Boscia is an innovator, often working with his brothers into the early morning hours to develop new techniques or refine established ones. He is one of a family of sibling masters, each an expert in his own specialty --marble statuary, Byzantine icons, gold leaf, enameling, wooden decoration.
It all began in the small, crowded workshops of Corso Alberto Amedeo, a street which has always been destined to accomodate the world of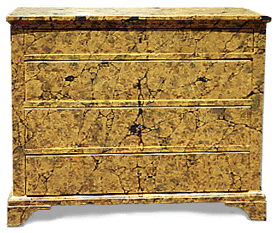 antiques, a reality bolstered by the existence, nearby, of the Palermo Flea Market, which has thrived for at least fifty years. In this place it is possible, if you search thoroughly, to find a bargain, perhaps an item of a certain importance found, by chance, in one or another attic but destined to claim its place in a home in Palermo or elsewhere.
Pietro Boscia's passion for rare antiques wasn't born by chance. In his elder brothers he found an entire generation of artists --and the best restorers are indeed artists-- who had worked for decades in this and other fields. That is how, day after day, he became ever more interested in this world, learning the art of restorations but above all managing to apply his innate creativity in a demanding field. It can be said, without implying arrogance, that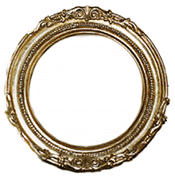 his work distinguishes him from his peers. Boscia's versatility makes it easy for him to work in every environment that presents itself --from furniture to interiors, from various antique pieces to the most delicate restoration of an antique picture frame.
"It's a very satisfying career," affirms Boscia, "because bringing back to life a piece of furniture or antique frame is not a simple task. In economic terms, though, it's not especially lucrative if you're honest and bring a sincere passion to the work. One would hope for better financing and lighter taxes for the artisans who pursue our work, since many end up with pensions that don't allow them even to survive."
About the Author: Aurora Della Valle has written for Il Tempo (Rome) and for other periodicals throughout Italy.