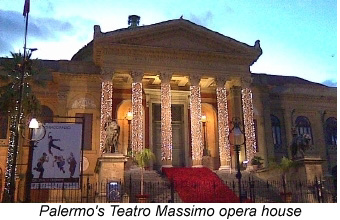 Once a year - usually in early December - I get an email from my friends at Best of Sicily suggesting it may be time to update my article on why Winter is a great time to visit Sicily. Personally, though I live in Britain most of the year I usually get to Sicily for the Christmas season, and this year is no exception, but my point here is why you should think about visiting Sicily early in the year before the March "tourist season" is upon us.
The best reasons don't change much from year to year. Sure, it's great to see The Nutcracker performed at Palermo's Teatro Massimo a few days before Christmas by a local ballet company led (and trained) by the former prima ballerina of Bucharest. And maybe there'll be a touch of pretty snow on the mountains – certainly visible on Etna if you're in Catania or Taormina. But every Sicilian season has its own charm, and the real reason for visiting during the so-called "low season" was summed up well by some English friends who did just that recently. They were simply delighted to discover the Greek temple at Segesta in a tranquil atmosphere as if the entire archaeological site had been reserved exclusively for them!
Here are a dozen good reasons to follow their example:
• As I've already implied, if your interests are mainly cultural and historical, as opposed to sun worshipping, you'll find fewer crowds at the most important archaeological and historical sites. (That can be a blessing if you're travelling with young children during a school break.)
• That goes for resorts like Taormina, too, where you'll find the streets refreshingly free of "tourists." In the present economic climate, you may even find hotel rates far superior to those of a normal "low season."
• In some ways you'll find that service in restaurants and hotels is better. They'll be happy to see you during a season when patrons are fewer.
• Your holiday – the entire vacation – will cost less during the "low" season. Especially flights and hotels.
• Shopping in early January allows you to take advantage of the After-Christmas sales on everything from coats to shoes.
• There will still be snow in the Nebrodi and Madonie mountains, and you can ski on Mount Etna.
• In some ways, it's the best time for golf in Sicily.
• It won't be too hot (as it is in July and August). Winter in Sicily is like late Autumn or mid-spring in many parts of Britain and the US.
• You'll be able to take advantage of a culinary "season" rarely experienced by visitors – for example, the delicious sea urchins of Winter.
• Enjoy Agrigento's delightful Almond Blossom Festival, in late February, or Catania's Saint Agatha Festival earlier in the month.
• The nights will be cool, and there may be a touch of rain, but not enough to ruin your vacation. Check out the seasonal weather.
• You'd prefer the convenience of a small group tour instead of travelling independently? Forget the misplaced advice from travel agents about there being no tours available early in the year. This year (and into March 2017) Best of Sicily offer several tours of Sicily with start dates in these early months – and lower prices during low season.
Think about doing something unconventional. Then do it.
About the Author: Travel agent Stefania Lanza is a Catania native who lives in London, where she works for a company specialised in independent travel and villa rentals in Sicily.