Magazine
Best of Sicily
Arts & Culture
Fashion
Food & Wine
History & Culture
About Us
Travel Faqs
Contact
Map of Sicily


Many have spoken of her unique art, and many more have travelled through her works, discovering something new with each voyage. Maria Salmeri Marchese, who signs her paintings
simply Samar, has painted since her childhood and through her art has always found a refuge where she could express the many sides of her spirit. If art sometimes succeeds in describing emotions, words usually fall short in describing art --or even artists. Samar paints in oil, tempera, acrylic, watercolour, pastel and, more recently, batik. The experimentation with these techniques has followed a path which, for the most part, has allowed her to discover herself. Her travels in Spain, Greece, Libya, Somalia, and other parts of Africa have given her inspiration, expressed with great serenity and the ability to interpret reality the way it is seen by one who has a sensitive and generous soul. Perhaps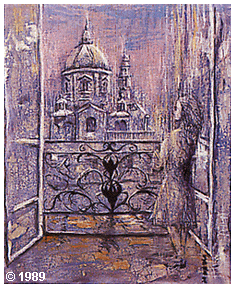 for this Maria Salmeri Marchese has been characterized a "tranquil Mediterranean painter."
With the subtle refinement of batik, combined with oil and pastel, Maria Marchese found another form of expression, using that most sensitive of media to convey the ephemeral and indeed tenuous nature of life itself. Her love for myth and history is almost as passionate as her love for life. Perhaps it is her subtle allusions to expressionism and surrealism that have endeared Samar to so many Sicilians; her vision transcends the unimaginative. Each image is linked to a memory, to an essential part of the artist's life marked by impressions, sensations, sentiments. A veritable kaleidoscope of emotions and sensations that have always colored her existence, presenting her art in terms both real and immediate. It is an equilibrium that is not for everybody, and it is never easy to achieve, but for Samar it has become an endless font of life and emotion.
About the Author: Based in Palermo, Gilda Sciortino is a journalist who has written for Il Mediterraneo, the Giornale di Sicilia and other publications, covering a wide range of subjects.